Top 4 Popular Bajaj Bike Amongst Youths In Nepal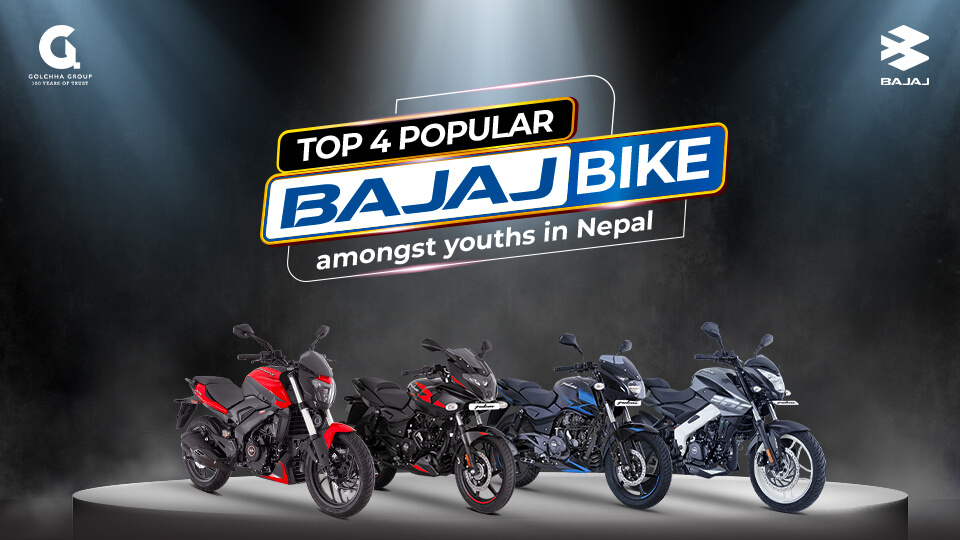 Motorcycles are both a desire and a need in Nepal's congested and narrow streets. Motorcycles are in high demand in Nepal, especially among teenagers. Motorcycles have always been popular in Asia as a whole, and in Nepal in particular, since the shahs. Motorcycles are popular among riders, and a variety of companies create them on a large scale. Bajaj has a large market in Nepal and is particularly popular among teens because to its affordability, performance, and, of course, appearance. Here are some of Bajaj's most popular motorcycles in Nepal (2022) among youngsters.
DOMINAR 250
This is Bajaj's monster. This isn't about outward appearances. Dominar 250 performance is outstanding. Although it is referred to as a power cruiser, it strives to do a lot of things. It's a versatile bike that's also really comfortable to ride. It's very smooth and incredibly quick. A single-cylinder, liquid-cooled, 4-valve, DOHC engine with a displacement of 248.77cc powers the Bajaj Dominar 250. At 6500rpm, Dominar 250 produces a maximum power of 27PS and a maximum torque of 23.5Nm. Instead of a triple-spark ignition system, the Dominar 250 has a traditional twin-spark ignition system. The engine is a KTM Duke 250 engine that has been retuned. Although the Bajaj Dominar 250 is a fresh new 250cc motorcycle, it shares many of the same features as the Dominar 400. This is the bike for you if you want a powerful motorcycle that could also rival with the Duke Series from KTM.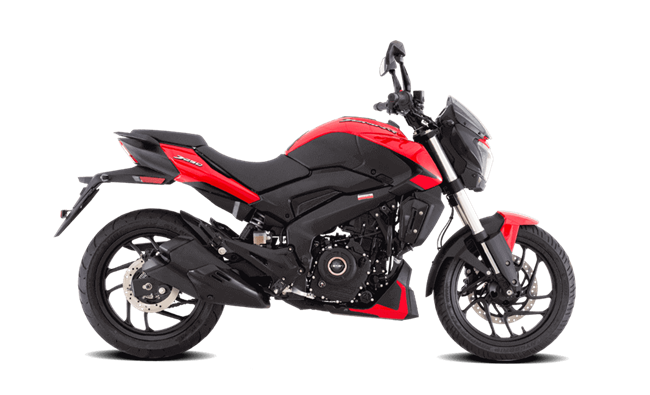 Click here for: Dominar 250 Price in Nepal
Key Features of Dominar 250
-New 250cc Twin Spark Engine
-EURO 4 with Liquid-Cooling
-Dominar 400 Inspired Design
-Spacecraft Inspired Tank Pad Decals
-Beam Type Perimeter Frame
-Up-Side Down Front Forks
-Dual Disc Braking
-Dual-Channel ABS
-Assist & Slipper Clutch
-Dual Exhaust
PULSAR NS 200
In Nepal, the Bajaj Pulsar NS 200 is the most well-known 200cc naked sports bike. Furthermore, due to its appearance, performance, and mileage, the bike is particularly popular among teenagers. The Bajaj Pulsar NS200 exudes machismo and aggression. The fit and finish, as well as the general construction quality, appear to be satisfactory. The 199.5cc liquid-cooled engine in the NS 200 delivers 24.5 PS at 9750 rpm and 18.3 Nm torque at 8000 rpm. It does, however, incorporate a standard BS4-compliant motor. The DTS-I engine comes equipped with triple spark plugs and a six-speed transmission. Furthermore, the standard model uses a carburetor for fuel delivery, whilst the FI model has the latest fuel injection system. The front forks of the Bajaj Pulsar 200 NS have a large hydraulic 130mm telescopic travel. There is already a Nitrox single - mode safety mechanism with a Cylinder in the back.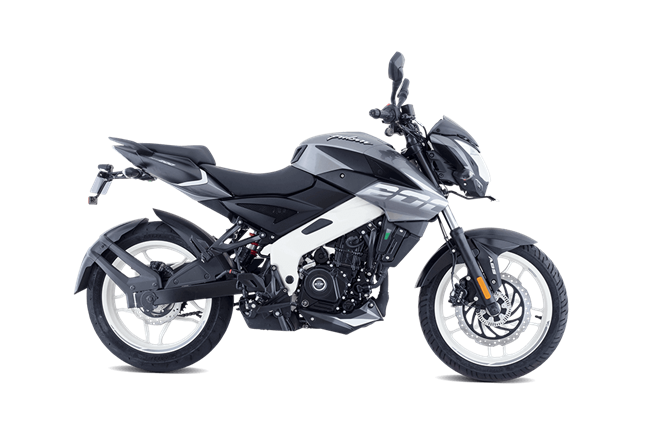 Naked Sports Series 200 cc Range available in Nepal:
Key Features of Pulsar NS 200
- Aggressive Masculine Design
- Best-in-Segment Performance!
- Triple-Spark DTS-I Engine
- Halogen Headlamp with Twin Pilot Lamps
- LED Tail Lamp
- Perimeter Frame
- Telescopic Front Forks with Nitrox Rear Monoshock
- Dual Disc Brakes
- Single-Channel ABS
PULSAR 150TD
The Bajaj Pulsar 150 is the most popular motorcycle in the 150cc category. It is preferred by everyone, from young boys to old men, because it offers a good balance of performance, fuel efficiency, and comfort. The Pulsar mixes the rush of speed with the accuracy of technology. The unique DTSi engine delivers smooth, top-notch performance in any situation. Two-disc brakes provide excellent control. You'll stand out on the streets with a bright color scheme, twin disc brakes, 37 mm front forks, a premium sporty split seat, and split grab rails for the pillion. The early 2000s' sharp and edgy style, updated with "Dagger"-inspired graphics, has a modern appeal.
The Pulsar 150 is powered by a 149cc air-cooled single-cylinder engine. The BS4-compliant carburetor motor can provide 14 PS of peak power and 13.4 Nm of maximum torque at 8,000 RPM. The front wheel has a disc brake, while the rear wheel has a 230mm disc or 130mm drum brake. Furthermore, the rear brake aids in a safe stop, and the disc brake delivers outstanding sensation.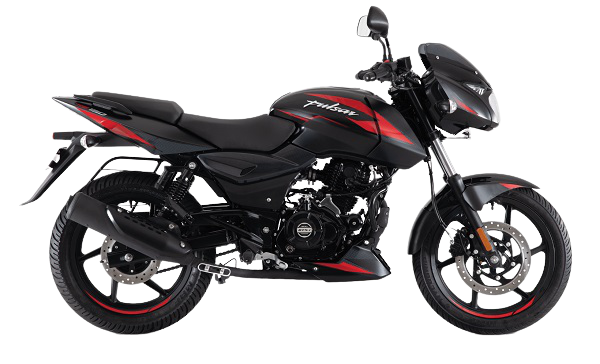 Visit here for: Pulsar 150 Price in Nepal
Pulsar 150 TD Features
- Twin-spark DTS-I 150cc engine
- Aggressive laser edged graphics
- Wolf eyed headlamp
- Large frame design
- Twin pilot lamps
- Premium material seat
- Upright seating position
- Wider tubeless tires
- 17-inch alloy wheels
- Dual disc brakes (in TD)
- Adjustable nitrox rear shock absorbers
- Analogue-Digital Instrument Console
PULSAR 220F
The Pulsar 220 F is without a doubt one of Bajaj's most popular motorcycles in Nepal. Furthermore, for nearly a decade, it has been one of the best-selling motorcycles.
Despite its archaic design and mechanics, this well-known bike has remained in high demand in the Nepalese market for many years. Regardless, Bajaj has only made a cosmetic change this time, with artwork inspired by daggers. The rest of the features, as well as the hardware and price, are unaffected. A 220cc single-cylinder DTS-i engine with two valves powers the Pulsar 220F. The oil-cooled motor produces 19.12 Nm of torque at 7000 rpm and 20.4 PS of power at 8500 rpm. The much-anticipated BS6-compliant FI engine which will surely be adapted in future .Aside from that, it has a wet multi-plate clutch and a five-speed manual transmission. The Pulsar 220F rides on reinforced 5-spoke alloy wheels with wide tubeless tires measuring 90/90 - 17 in the front and 120/80 - 17 in the rear. Braking responsibilities are handled by a 260 mm disc brake in the front and a 230 mm disc brake in the back, both of which offer appropriate stopping force to the wheels. ABS with a single channel is also included as standard.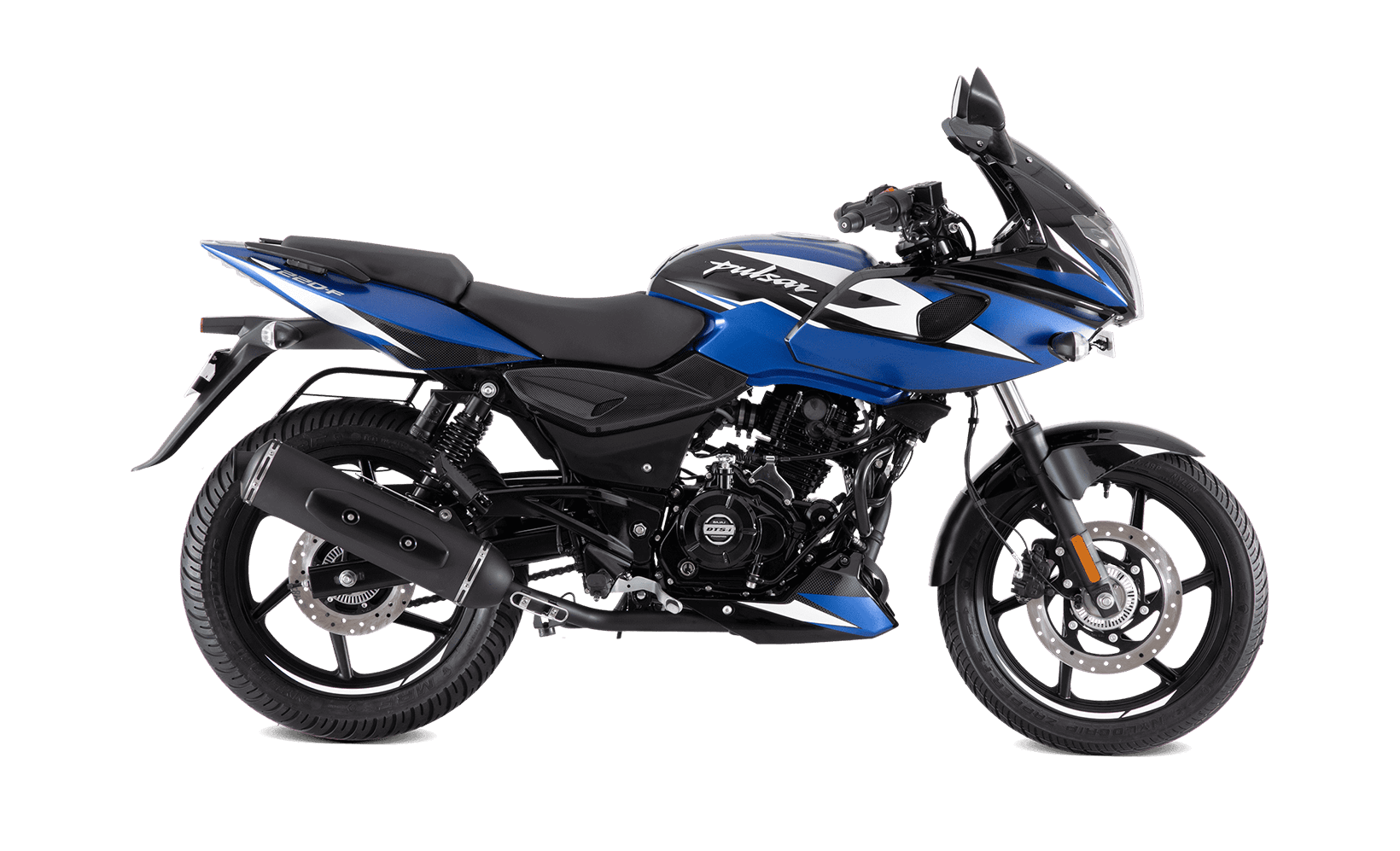 Price of Pulsar 220F cc available in Nepal:
PULSAR 220F Features
- Semi-fairing Styling
- Dagger inspired graphics
- Large frame design
- Well-padded Split Seat
- Clip-on Handle Bars
- 220cc DTS-i engine
- Oil Cooling System
- Wider tubeless tires
- 17-inch Alloy Wheels
- Adjustable Nitrox Rear Shock Absorbers
- Front and Rear disc brakes
- Single-channel ABS
- 12V Full DC Headlamp
- AHO (Auto Headlamp On)