Bajaj Bike Exchange Offer Nepal | EMI Facilities & Free Accessories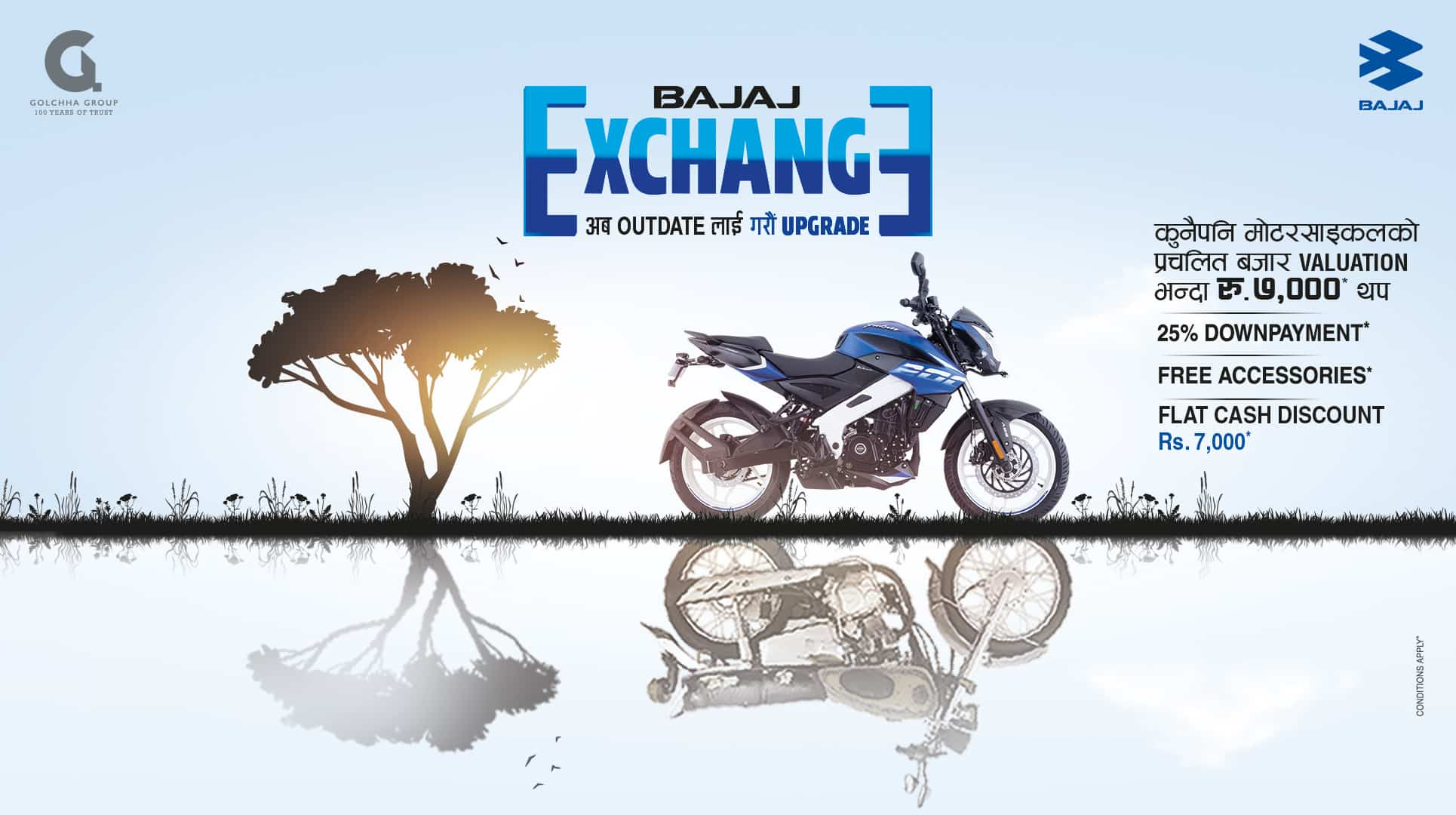 Bajaj Exchange Offer:
Benefits of Motorbike Exchange during Exchange offers are:
- NRs. 7,000* Added Valuation of your old bikes than market price.
- Free Accessories* (Bike Cover, Wax Gloves, Bag, Half Helmet and Leg Guard).
- 35% Down payment with 12% Interest* facilities
- Flat Cash Discount NRs. 7,000*
- Exchange with any Brands of Motorcycles and Scooters.
- Financing Offers.
Note: *Condition Apply
HH Bajaj holds bikes exchange offers in different locations of Nepal and on different dates to help customers easily upgrade to new Bajaj Bikes. During the exchange offer, the customer can bring any Brands of Motorbikes or Scooter and exchange with Brand New Bajaj Motorbike in Nepal. With these types of exchange offer facilities, we think that peoples wish to upgrade to new bikes can be fulfilled with less burden of money as customers don't need to pay in whole cash.
In the time of Bajaj Bike Exchange Offer, you can get more valuation amount of your old bikes/scooters than market price or recondition stores.
FAQ related to Bajaj Bike Exchange in Nepal:
1. Why do customer choose to exchange the bike?
✔ A customer chooses to exchange the bike because they are getting the good valuation of bike than that of regular reconditions houses. This is a great opportunity for people who are financially struggling to get hands on new model which serve a better purpose. A reasonable EMI plan to go along with makes Bajaj exchange services a quality of offer.
2. How much will be the cost/valuation of my bike?
✔ The cost/valuation of the bike depends upon the condition of the bike, how much KMs run and the market value of that bike. During Exchange offer customer can get good valuation of the bike than regular exchange in recondition stores.
3. Who will valuate my bike?
✔ The valuations of bikes are done by professionals at Bajaj Service Center. The best exchange offer for bikes could be yours if the engineer's valuation is positive.
4. How does valuators valuate the bike?
✔ Bajaj exchange offer is not just limited to bikes in good condition. Usually, some bikes are really worn out while others are taken care off really well by owners. The valuation depends on wear and tear of body, engine health, basically all the parts are carefully evaluated.
5. What is the benefit of bike exchange during Exchange Offer?
✔ The benefit of bike exchange offers in Nepal is that the company provides certain amount of added valuation on your bike, attractive cash discounts and installment facilities also. Free accessories like Bike cover, wax gloves, bag, half helmet, and leg guard available.
6. Is there financing facility during exchange offer?
✔ Not only Bajaj provide with best exchange offer schemes, to make it more easier you can adopt a EMI plan for paying the rest in installments. Bajaj Nepal gives 12% Interest Rate on 25% Down-payment and 6% Interest Rate on 50% Down-payment on the latest offer.
7. How can I contact the Bajaj dealers in Nepal?
✔ You can contact the Bajaj dealers in Nepal by visiting the authorized dealers or you can visit the link here Bajaj All Nepal Dealers for contact address.

8. What is the current price of Bajaj Bikes in Nepal?
✔ View the current prices of Bajaj Bikes in Nepal: Bajaj Motorcycle Price Lists in Nepal