Bajaj Bikes Servicing In Nepal FAQ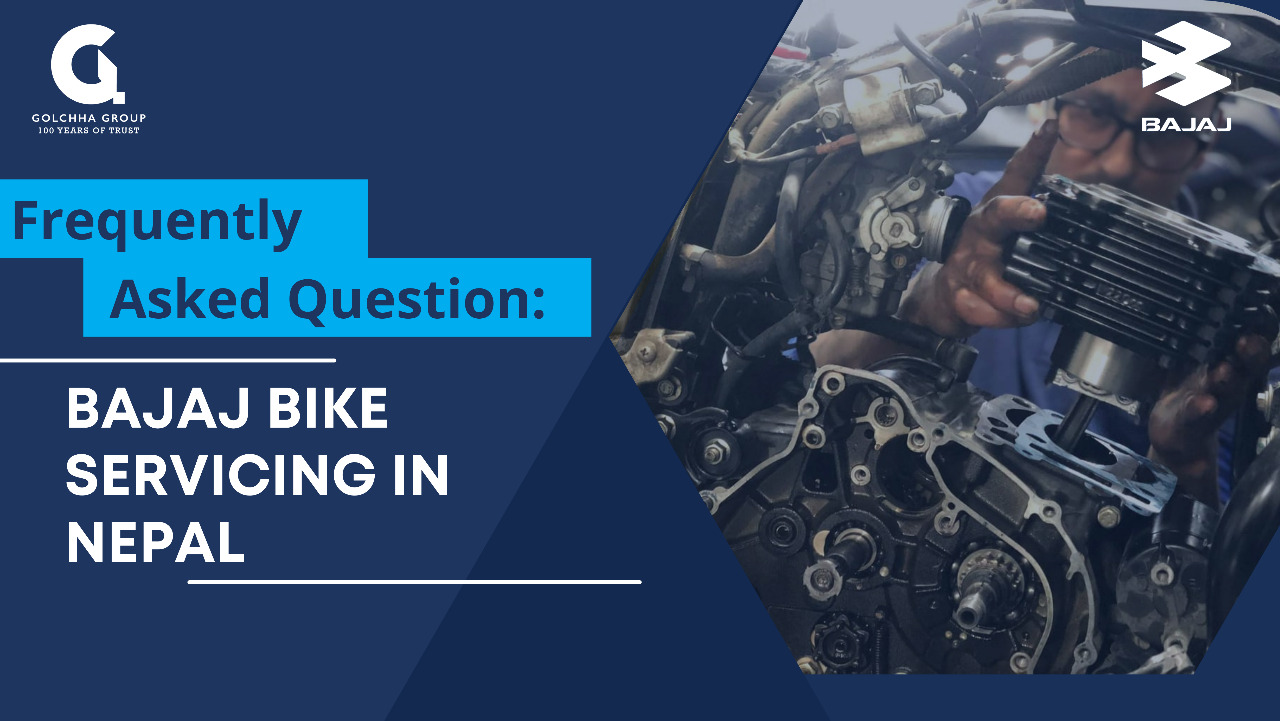 Bajaj Motorbikes are built with attention to detail to ensure the highest standards for every component of the motorbike. Regular maintenance and checkup of your motorcycles are necessary to keep its parts and engines working smoothly. Motorbike servicing includes vehicle support, inspection and parts replacement.
If a replacement is required, it's vital to ensure that the new item is of genuine quality standard, similar to the one that was originally installed. Therefore, we recommend to get your Bajaj Bikes repaired from authorized Bajaj Service Centers in Nepal to avoid your self from any duplicate spare parts and to get maximum performance from your motorbike. We have over 100+ Bajaj Service Centers with advance technologies and equipment to look after your Bajaj Bikes by our well trained and most experience technicians.
Here are Most Asked Questions on Bajaj Bike Servicing and issues by our customers which is answered by Mr. Shyam Bhakta Maharjan, Head Technician from Bajaj Service Gusingal.
1) How do you know if your Motorbike Needs Servicing?
Maintaining your motorcycle regularly is the most effective way to keep it running smoothly, leanly, and agilely. Because of their smaller frames and more compact structure, they are more prone to wear and tear, hence the signs that your bikes need servicing include:
• The engine oil has not been changed in a long time.
• The sprocket and chain have been worn out
• The air filters are unclean
• Check the brake fluids if they are below the marked Level
• Generally, for Bajaj Bikes it's time to service after 1700-2000 kilometers have passed since the last service.
2) What is the general/average Bajaj Bike servicing price in Nepal?
In an approved service center, servicing for the pulsar series costs Rs 450, while servicing for the Dominar costs Rs 790, including vat.
3) How do I know, whether the service center truly replaced new oil Mobil with old ones?
Check the color of your engine oil using the Mobil gauge located on the engine's backside; the color should appear fresh depending on the color of the engine oil. You can also insert the dipstick into the engine and rub the engine oil with your fingers to check for smoothness and viscosity. Engine oil should always be smooth and not be heavily polluted.
4) After buying Bajaj Bikes how many times of Free Servicing will I get?
After the purchase, Bajaj provides seven times free servicing.
5) What is the time duration for average Bike Servicing?
The average time for bike servicing is 75 days.
6) Which Engine Oil is suitable for Bajaj Bikes?
We utilize servo 20w50 for commuter and smaller cc Bajaj bikes, and Mobil synthetic for premium category bikes like Dominars for best performance.
7) When to change motorcycle engine coolant?
We should drain the old coolant and replace it every two years or 15000 miles.
8) Why is it recommended to give your motorbikes to an authorized Service Center only?
Advanced systems may or may not be well understood by local mechanics. The approved servicing facility employs advanced customized instruments that are tailored to unique needs, ensuring client pleasure. Furthermore, if your bike is covered by a warranty, you must get it serviced at an approved repair center to be eligible for future warranty claims. In addition, below are some summary points.
• High-tech equipment and tools.
• Highly qualified specialized technicians in a certain brand.
• Have in-depth knowledge of certain motorcycles and how to deal with common brand problems.
• Original spare parts
9) When should I bring the Bike for the first servicing?
After the bike has traveled 500-750 kilometers, it is ready for its first service.
10) Is it necessary to change the Mobil filter while changing Engine Oil?
Yes, Mobil filters collect all engine dust and particles as the oil circulates, hence Mobil filters must be replaced at every engine oil change
11) How can I know if the Bajaj Spare Parts are genuine?
Always purchase and replace spare components from a reputable repair shop. Examine the cover for a genuineness sticker. To check whether the parts are authentic or not, use the Bajaj GENUINITY SCANNER to scan the stickers.
Also Read: Benefits of Bajaj Genuine Spare Parts for all your Bajaj Bikes
12) What is the most common problem found in Bajaj Bikes? How can it be solved?
• A single-arm bush sound that can be fixed by lubrication
• The sign of an air filter in the speedometer ASSY, can be resolved by cleaning the filter box
• Cleaning the disk pad and lubricating the disk caliper can solve the -disk pad sound.
• Chain noise can be eliminated by changing chain links as well as oiling and greasing.
• Leg guard vibration, which can be remedied by tightening nut bolts,
• Fairing vibration in the pulsar 220f, which can be alleviated by using anti vibration agents such as double tapes and bush rubber.
• On Dominar bike, there is a cam chain sound that can be fixed by adjusting the tensioner.
13) Does my Headlight bulb frequently get damaged even if I replace it with new Headlights? What is the main reason for it?
Inspect the headlight for voltage variations. Look for an RR unit in your bike that regulates the voltage. Replace the RR unit and coil if necessary. If a headlamp control unit is present, look for it. Check for short circuits and wiring faults as well.
14) My bike's Self Start has a problem and my bike does not have Kick Start? In this condition how can we start?
Install your bike's double stand. Change to 4th gear on your bike. Place yourself at the back of your bike. Pull the back wheel of your bike from the bottom and roll it to start the engine. You can alternatively put the bike in second gear and push it forward until the engine starts. Motorcycles these days have rejected kick starts and only come with electric starts. View reason why no kick starts available for a motorcycle nowadays.
For Sale, Service & Spare Visit: Bajaj all Nepal Dealers

To Download the Bajaj Connect Mobile App: