Bajaj Connect App in Nepal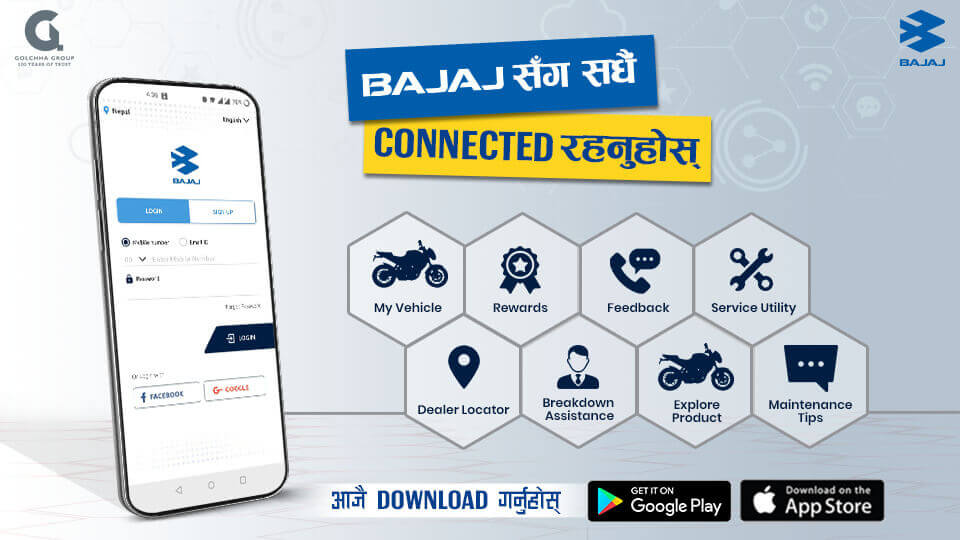 अब CONNECT रहनुहोस BAJAJ संग सधैँ भरी Bajaj Connect बाट!
People are increasingly relying on the Internet to run their entire lives and enterprises. Similarly, Baja Connect, with over ten years of experience in the wireless communications market and over 25 years of experience in networking and communications, provides quality and stability in a world of constantly growing technology.
Bajaj Connect have delivered better service to its customers by implementing digital advancements and putting unique features at their fingertips. The app is accessible for both iOS and Android devices, allowing users to continue to enjoy the thrill of riding a motorcycle.
Additionally, Bajaj clients worldwide will be able to simply and quickly access and manage everything linked to their units with just a few clicks, thanks to this innovative idea.
About the new features, Bajaj Connect also allows users to locate nearby dealerships, learn about warranty and maintenance periods, connect with mechanical repair and customer service, collect points, learn about other Bajaj vehicles, and save both units and private details, among other things.
Some of the wonderful features offered by the application are highlighted below:
1. Locating a Dealer Workshop / Petrol Pump
If your Bike needs maintenance and you're out of gas, Bajaj Fuel can help you locate and travel to the nearest approved workshop/fuel pumps. This assisted the client and made the approach easier.
2. Service Records
The Bajaj Connect features allow you to record and track your vehicle's service history based on your visits to dealer workshops with each visit.
3. Owner's Manual
Almost all technologically advanced consumer devices come with an instruction book or booklet, which can be accessed digitally using an app.
4. Customer Feedback
The application allows customers to provide feedback on their service experience to improve and better serve them. As a result of the information gained from the service experience, assist them in improving and moving forward.

5. Maintenance Advice
There is also the option of extending the vehicle's life with maintenance tips.
6. Service Due Reminder
You no longer need to consult your calendar to remember when your bikes next scheduled service is due since Bajaj connects reminders to remind you when your vehicle is due for its next servicing maintenance.
7. Document save
Save your personal and vehicle documents such as registration certificates, PAN cards, driver's licenses, and insurance policies.
8. Insurance Reminder
The software also reminds you about the vehicle's insurance renewal
9. Breakdown support
In the unfortunate breakdown, the application provides self-help assistance.
10. Notifications
This section contains all forms of notifications, such as insurance renewal reminders, service reminders, Service Camps, and so on.
11. Rewards
Allows users to participate in and win enticing incentives through Quizzes, Surveys, and Referrals, among other things.
12. Service Cost Calculator
Helps to get an estimate for your next scheduled service as well." By creating a comprehensive mobile application, named Bajaj Connect all of Bajaj Auto's after-sales care is in the hands of its valued clients. As a result, the organization lives up to its promise of providing service that is always one step ahead of the competition.
To Download the Bajaj Connect Mobile App: