Why choose Bajaj ABS Bikes in Nepal?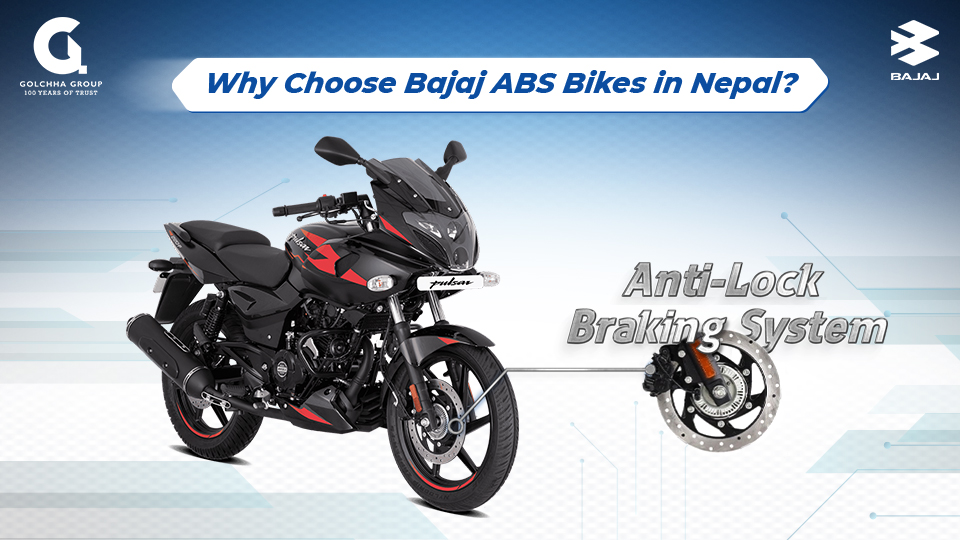 The treacherous roads of Nepal are unforgiving for riders whether it be daily commute or road trips. Bajaj bike offers the perfect solution, mitigating dangerous mishaps on the road. "ABS was associated with a 31 percent reduction in the rate of fatal motorcycle crashes per 10,000 registered vehicle years" according to IIHS.
Uncovering the facts, Why choose Bajaj ABS?
ABS is simply an anti-lock braking system, instead of locking the wheels, Bajaj ABS braking provides traction control while an outdated drum brake system invites risk bringing the bike to a complete halt.
Comfort, reliability, and affordability is a major flag for anyone looking to get their hands on a bike. Bajaj bikes come with dual ABS options on different models making them cost-effective and safe. Single-channel ABS, the front wheel is equipped with an anti-lock system used to calculate data for ECU, programmed to decrease tire skids maintaining balance. Whereas, Double channel ABS uses information from the back tire and front wheel sensors. They correlate the information with the ECU making a note of the motor speed, accelerator, transmission, and clutch allowing ideal controlling conditions.
Bajaj ABS bikes provide comfort, performance and are cost-friendly.

Single Channel ABS
Dual Channel ABS

Issues confronted while riding a bike
At whatever point a vehicle slides, there is additionally a logical possibility of a mishap. Sliding starts when the force applied by the driver on the brake is more than required. This tire skid is the result when the brake cushions and the disc plate completely halts the momentum rather than slowly coming to stop. This infers that the wheel gets shot and starts slipping all the while all over the town surface.
Apply less force on the brakes and the bike doesn't stop in time and while hard braking will result in tire slipping. Bajaj Abs is the perfect solution to avoid the slipping of vehicles, the bike comes to stop in the most optimal method mechanically possible.
So gone are the days where you compromise your safety by purchasing a bike. Bajaj ABS Bikes have you covered in any road conditions. Whether you are an experienced rider or a newbie, in any circumstance stopping the bike becomes a less of challenge.

More Related Blogs:
- FAQ on Bajaj Bikes Servicing In Nepal
- How Can You Increase the Durability of Your Bike with Branded Genuine Parts?