Top 5 Best Mileage Bajaj Bike in Nepal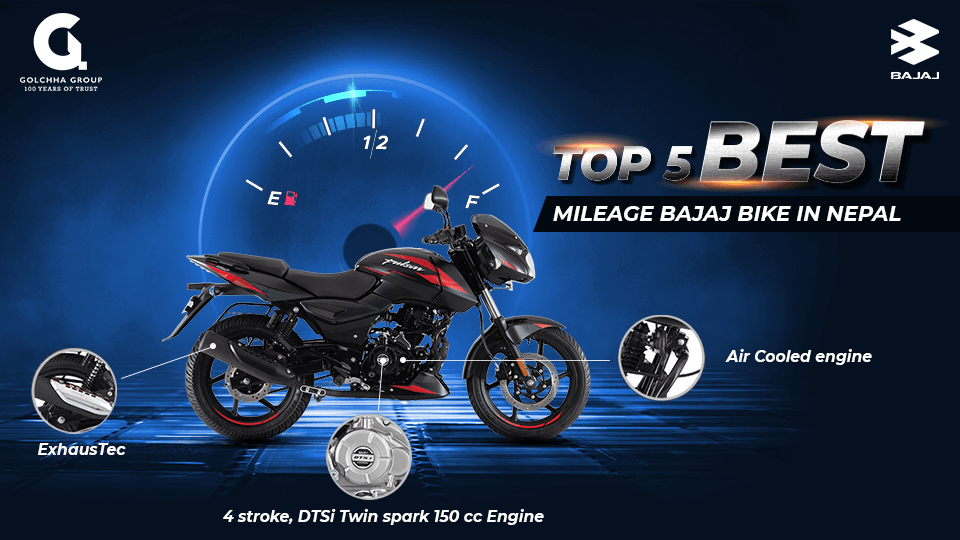 In Nepal, people prefer to use a bike for daily work. Bikers can easily move around the city traffic and bike provides significantly higher mileage. During fuel price hikes, people prefer the best mileage bike for their daily work. With Bajaj's DTS-i Engine you will get the best fuel efficiency for your bike. Below are the top 5 Best Mileage Bajaj Bike for the roads of Nepal.
1. Bajaj Platina 100 ES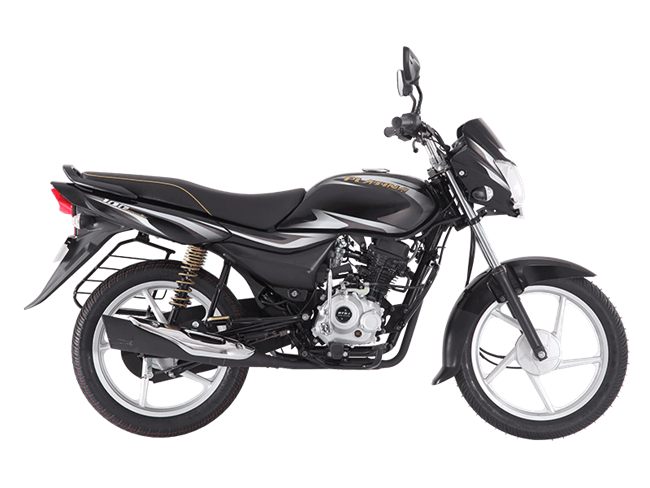 The main part of the all-new Bajaj Platina is the mileage. At 96.9kmpl it has been channeled as the world's most eco-friendly bike estimated underneath the 1.7 lakh mark.
As far as configuration updates, the Platina ES comes with an upgraded headlamp, all-new side boards, fresh out of the plastic new exhaust, and invigorating new designs. It remains on dark five-talked amalgam wheels that come as standard and accompanies the longest seat presented in the section.
Intended to coordinate with the requirements of those significant distance suburbanites, the new Platina additionally offers a long travel adaptive front suspension and SNS (twofold spring) back suspension for a sweet ride. The more drawn out wheelbase and three-inch wide back tires offer prevalent grasp and control. The three-shading tones incorporate Ebony Black, Electron Blue, and Candy Red.
Going to the main part, the Platina ES is controlled by a 102cc single chamber, DTS-I motor with ExhausTEC. It creates 8.2PS of look power and 8.6Nm of look force mated to a 4-speed all down gearbox. Bajaj likewise did a worldwide report on mileage across in excess of 50 significant nations and in excess of 500 bike models.
The outcome, the new Platina ES 100 was incredibly the most eco-friendly bike as no other creation bike in the 95 to 105cc territory offers such selective figures. A whooping performance from a bike that comes at a reasonable cost. Platina is one to look for if you are running on a budget.
2. Bajaj Discover 125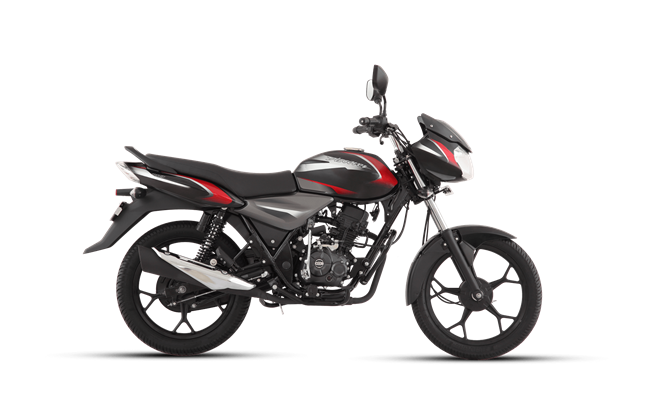 The Bajaj Discover 125 is a decent choice for the people who need a more remarkable choice than the Discover 110. The 125cc Discover is like the 110cc variation in numerous viewpoints. The two motorbikes share a similar cycle parts and even have a similar wheelbase at 1305mm. Nonetheless, the Discover 125 games an all the more impressive motor. The bike delivers its pinnacle force at simply 5500rpm, which makes it more usable around in the city. The knock in power contrasted with the 110cc motor is likewise valuable on the interstates for better cruising speeds and keeping in mind that surpassing.
Concerning the underpinnings, the Discover 125 Disc utilizations a semi-twofold support case with adaptive forks at the front and twin Nitrox gas-charged safeguards at the back. The gas-charged shocks give the Discover a more malleable ride considerably over unpleasant surfaces. The bike utilizes 17-inch compound wheels at the two closures while slowing down obligations are dealt with by a 130mm drum for the two wheels. The Discover 125 additionally gets a circle brake variation in which the front wheel is furnished with a 200mm plate.
The Bajaj Discover 125 is a strong item for the individuals who are searching for a reasonable yet incredible driving choice. In brand name Bajaj style, the motorcycle additionally altogether undermines a portion of its opponents with regards to estimating.
Plan and Features
The Bajaj Discover 125 stays consistent with the Discover genealogy. Bajaj has just revised the illustrations and other restorative pieces while holding the fundamental plan of the past Discover 125. The 2018 variation gets new illustrations, a double tone seat, bar-end loads, passed out cycle parts and a clever arrangement of arachnid composite wheels. Bajaj has additionally included LED DRLs coordinated into the headlamp gathering. Regardless of being around for quite a while, these progressions have cleaned up the vibes of the Discover 125.
As far as highlights, the bike sports a semi-advanced instrument console that shows a large group of data like speed, odo perusing, fuel level, trip distance and low battery pointer. The switchgear quality is acceptable, notwithstanding, it passes up a motor off button. The Discover 125 utilizes an electric just as kick starter. The bike's drum variation has a kerb weight of 121kg while the circle variation weighs 122kg. Fuel tank limit is 8 liters, with 1.5 liters for possible later use.
Motor and Performance
Bajaj Discover 125 houses a 124.6cc, single-chamber, 2-valve, DTS-I with Exhaust TEC engine that is mated to a 5 speed gearbox, which makes the ride more euphoric. The motor creates a most extreme force of 10.9bhp at 8,000rpm with a pinnacle force of 10.8Nm at 5,500rpm. The motorcycle gets sufficient solidarity to achieve a maximum velocity of 100kmph. The engine can turn over with a press of a button or by kicking. With a noteworthy mileage of 82.4kmpl, the motorcycle can undoubtedly overwhelm its adversaries.
3. Bajaj Pulsar 125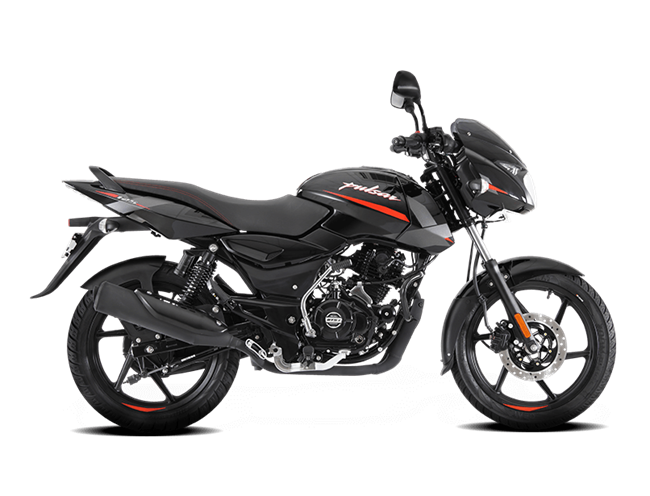 Bajaj Pulsar 125 Neon is accessible in 4 variations and 6 tones with top variation. The Bajaj Pulsar 125 is fueled by 124.4cc BS4 motor which fosters a force of 11.64 bhp and a force of 10.8 Nm. With both front and back drum brakes, Bajaj Pulsar 125 thinks of consolidated stopping mechanism of the two wheels. This Pulsar 125 weighs 140 kg and has a fuel tank limit of 11.5 liters.
The Pulsar 125 Neon is the most reasonable Pulsar one can purchase in N It is likewise one of the most pursued bikes in the portion, on account of the use of brand Pulsar. Bajaj accepts there's a business opportunity for a lively 125 cc in the country. Truth be told, it additionally accepted that eco-friendliness is certainly not no joking matter in this section.


Bajaj Pulsar 125 Colors and Design
The Pulsar 125 is accessible in three tones - blue, silver and red. Notwithstanding being a 125 cc contribution, it flaunts a plan and elements indistinguishable from the Pulsar 150 that has been a colossal accomplishment for the Chakan-based brand for quite a long time. The Pulsar 150 has primarily been famous for its solid styling and disorderly allure. The use of matt just as some sparkle paint has made the Pulsar 125 very tempting to check out.


Bajaj Pulsar 125 Mileage and Performance
The Pulsar 125 returned a city eco-friendliness of 42 kmpl which is fair for a motorcycle this size. Driving the littlest Pulsar is a 124.4 cc, air-cooled, DTSI motor that produces 11.64 bhp at 8,500 rpm and 10.8 Nm of pinnacle force at 6,500 rpm. Transmission obligations are dealt with by a five-speed gearbox. The power conveyance is very direct which makes it very available. Besides, there's a lot of low and mid force that guides in city riding.


Bajaj Pulsar 125 Specifications and Features
The Pulsar 125 is based on a solitary down tube undercarriage, it rides on 17-inch combination wheels at the two finishes that are suspended by adjustable forks and double safeguards. Slowing down is dealt with by a drum at the two finishes while a front plate is likewise accessible as a choice. The Pulsar 125 steers the result at 140 kgs.
4. Bajaj Pulsar 150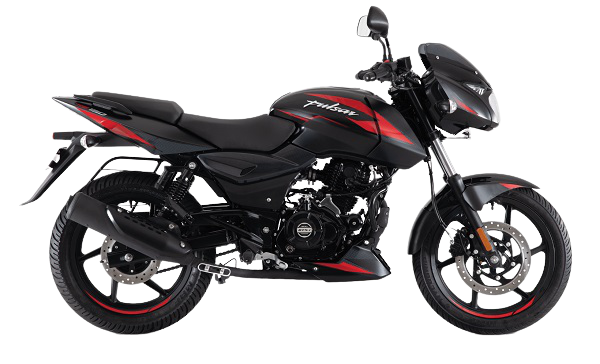 Bajaj Pulsar 150 is currently approaching the Rs 2.7 lakh mark. The notorious cruiser has become very costly lately with no genuine updates gave to the motorcycle to legitimize the additional asking cost. Here's more subtleties on the new costs of the Pulsar models.
Bajaj Pulsar 150 Specifications
The Bajaj Pulsar 150 is controlled by a 149.5cc single-chamber, air-cooled, fuel-infused BS4-agreeable motor. It makes 14PS at 8500rpm and 13.2Nm at 6500rpm. While the power continues as before, force is somewhere near 0.15Nm contrasted with the BS4 cycle. Bajaj hasn't rolled out any improvements to its underpinnings. The refreshed Pulsar 150 still uses an adaptive fork at the front and twin safeguards for its suspension obligations. A 260mm front circle and a 230mm back plate handle slowing down obligations matched with single-channel ABS. At 148kg, the kerb weight has gone up by 4kg.
Bajaj Pulsar 150 Design
Bajaj hasn't refreshed the plan of the Pulsar 150 for some time now. Indeed, even in the BS4 cycle, it conveys forward a similar plan prompts as the more established rendition. Both the paint choices accompany differentiating decals, giving the Pulsar 150 a lively look.
Bajaj Pulsar 150 Features
As far as elements, the Bajaj Pulsar 150 gets a semi-advanced instrument console, which shows the fuel level, speed, odometer, trip meters and illuminated switchgear. Single-channel ABS is presented as a standard fitment.
Bajaj Pulsar 150 Mileage
As revealed by Bajaj Pulsar 150 users, the genuine mileage of Pulsar 150 is 50 kmpl. According to ARAI, the normal of Pulsar 150 is 50 kmpl. It conveys better mileage that 100% of road bikes. With a petrol tank limit of 15 liters, this bike can go upto 750 kms on full tank. While ARAI mileage figures are accomplished under ideal test conditions, the genuine situation will be unique due to driving conditions and riding propensities for riders.
5. Bajaj Avengers 160 Street AB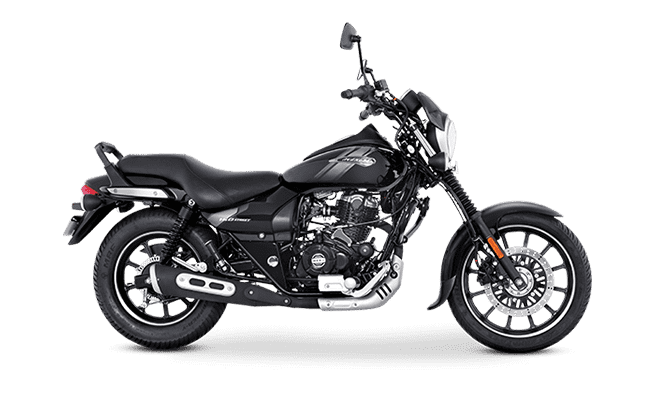 Bajaj Avenger Street 160 is a cruiser bike accessible at a beginning cost of Rs. 3.3 lakh in Nepal. It is accessible in just 1 variation and 2 tones. The Bajaj Avenger Street 160 is controlled by 160cc BS4 motor which fosters a force of 14.79 bhp and a force of 13.7 Nm. With front plate and back drum brakes, Bajaj Avenger Street 160 concocts hostile to locking slowing mechanism. This Avenger Street 160 weighs 156 kg and has a fuel tank limit of 13 liters.
Bajaj Auto had presented the Avenger Street 150 which was subsequently supplanted with the new Avenger Street 160 claiming to client input. As far as plan, the cruiser continues as before as the now ceased Avenger Street 150 model. It offers a similar laid-back position with a forceful level handlebar. The passed out topic has been kept highlighting dark powder covered parts including the handlebar, exhaust, get rail and markers. The composite wheels are additionally completed in dark finishing the look.
The greatest change, in any case, is the motor that is presently BS4-agreeable. The 160.4cc, single-chamber, fuel-infused engine produces 14.8bhp and 13.4Nmand comes mated to a five speed gearbox.
For parts, the Avenger Street 160 ABS is outfitted with adaptive forks at the front and twin safeguards at the back. Slowing down is taken consideration with a 230mm single circle front and center outfitted with single-channel ABS while the back keeps on highlighting a 130mm drum brake. You can have the Avenger Street 160 out of two shading choices dark or red.
The bike is claimed to have a mileage of 47.3 km pl exceeding its predecessors limit by some margin.
Do not miss the New 2022 Edition Pulsar NS 125 Bikes in Nepal with BS6 Complaint.