Bajaj Avenger the Best Value for Money Cruiser Bike? Find Out Why!
Bajaj Avenger Cruise 220 Specifications
Max Torque
17.5 NM
Engine Capacity
220 CC
Engine Output
19.03 PS
Kerb Weight
159 KGs
Fuel Tank
13 L
Bajaj Avenger Cruise 220 is the best cruiser bike in Nepal! Do you disagree? Well, please do proceed towards reading this article and we guarantee you will change your view!
As a leading motorcycle brand, we have been consistent for quite a while in Nepal when it comes to offering excellence with our brands. With all our two-wheelers having specific features, our products are mostly considered the best value for money bikes in Nepal. As a result of all this, we have also produced the best cruiser bike!
Best Cruiser Bike in Nepal
Avenger motorcycles have been on the top list for cruiser bikes. Well, we should not be surprised by the performances it delivers.
Having a proper cruiser two-wheeler is a dream as well as a necessity for many. Keeping this in mind, we have provided a series of upgrades to cruiser bikes that can handle the tough roads of the villages of Nepal, especially with Avenger.
Let us be honest, roads in Nepal are not that friendly to riders. Normal bikes may face difficulty navigating through the roads, even on popular highways. However, with Bajaj Avenger, such difficulties can be waved goodbye and with a hint of total satisfaction.
Avenger promises smooth riding, less bumping, proper grip, a high-capacity engine, and high mileage. Yes, we are talking about the Bajaj Cruise 220! Keeping this in mind, we can also say that: Quality does deliver!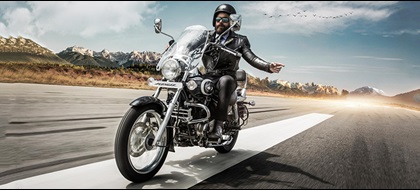 Price of Bajaj Cruiser 220 Bike in Nepal
Depending on the features it has like its design, performance, mileage and everything others, Bajaj Avenger Cruise 220 price seems to be very reasonable.

Looking at the price and experiencing the bike via a test-drive, customer feedback, and popularity in the segment, it is the best value for money cruise motorcycle in Nepal!
Features of Bajaj Avenger Cruise 220
The best feature of this wonderful two-wheeler is its appearance. With easy handling, turns that are present in Nepalese roads are easily passed through!
The other feature is the engine which is a trademark for all Bajaj motorcycles! The Avenger Cruise 220 has an engine of 220cc. This enables all of it to perform to its best!
If you have seen or ridden an Avenger motorcycle, you may have observed the tank size. The tank size is capable of holding quite a lot of fuel for you to travel long distances!
Avenger Cruise 220 does not disappoint with its 13 L tank capacity that is enough for a long drive or trip! So if you are planning for a drive, do not hesitate to test this two-wheeler out!
Demand of Bajaj Avenger in Nepal
With all the best features that enable it to be ridden safely and in a stylish way, people in Nepal have been demanding Avenger Cruise 220cc!
Avenger Cruise 200 is the best! No matter if you are driving through rural roads of Nepal or zooming through the highways, you will face no issues! Along with style, we have also packed it with fabulous features that catch every customers' eyes!
Do not think twice if you are looking to purchase or Book Avenger Cruise bike! Go for an inquiry or contact the respective showroom straight away!
✔ Explore here more of Bajaj Bikes Price in Nepal