5 key Features of Bajaj Discover 125 cc Disc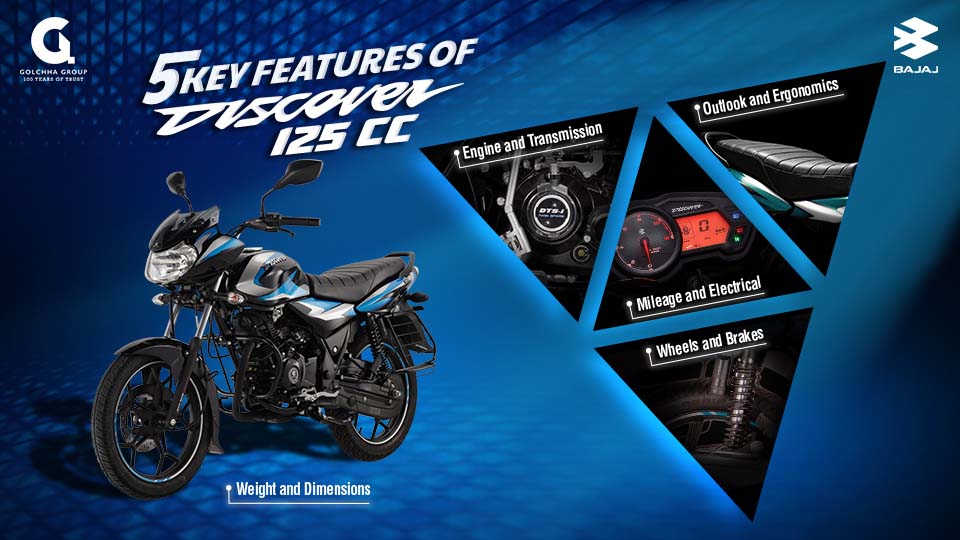 High mileage and low prices make Bajaj's Discover series perhaps the most well-known among others. The New 2021 Model Bajaj Discover's popularity stems primarily from the demand for commuter bikes. The Discover 125cc disc brake at the front, rather than a drum brake, is the primary characteristic that distinguishes this Discover model. Apart from the upgraded brakes, this bike offers several other features that we have attempted to break down for you below.
Engine and Transmission
The Bajaj Discover 125 disc is powered by a 124.5cc single-cylinder air-cooled 4-stroke engine that produces 11PS at 8000rpm and 10.8 Nm at 5500rpm. Instead of the single spark plug previously used, Bajaj's DTS-i (Digital Twin-Spark Ignition) technology uses two. This technology improves the combustion pressure in the engine, resulting in increased torque, lower emissions, and improved fuel efficiency. Manual transmission with a 5-speed gearbox is used for transmission.
Mileage and Electrical
This bike offers an extraordinary primary fuel capacity of 8 liters and a 2.3-liter primary fuel capacity for a motorbike in the commuting sector.The mileage obtained was 65 Kmpl, one of the highest figures for a 125cc motorcycle. This bike also includes a 12V 5Ah battery that will last several years while powering the lights and horns.Another area where this Discover edition has made significant improvements is the dashboard. Everything is digital, except for the RPM meter, fuel gauge, speedometer, and odometer.
Also Read: How Discover Motorcycle Makes Your Day-to-Day Commuting Comfortable
Wheels and Brakes
Tubeless tires are installed on both the front and back wheels, with a 100/80-17 46P tire on the front and a 100/90-17 55P tire on the back. Tubeless tires significantly minimize the likelihood of a flat tire, reduce weight, and improve traction on the road. In addition, Bajaj has added disc brakes at the front wheel for the first time in the Discover lineup with this model. A disc brake applies force to the disc attached to the wheel through a brake pad or brake caliper to stop the bike. As a result, the braking performance of the Discover 125cc disc brake is less impacted by weather conditions; it prevents brake lock, has fewer moving parts, and operates more effectively. Finally, the cost of repairing the Bajaj Discover disk brake system is significantly lower than the previously employed drum brake system.
Outlook and Ergonomics
The design isn't as flashy as a sports bike, but it's good enough to compete with other commuter bikes on the market. There's also a unibody seat that gives you a comfortable reach to the handlebar and allows you to shift it around with ease. The distance between the footrest/kick start and the seat is also very comfortable, making it suited for riders of all heights. You'll be given four color options to pick from. Black-blue, black-red, black-green, and a completely red alternative are available colors.
Weight and Dimensions
A bike's weight plays an essential part in making it more stable and balanced. This bike weighs 124.5 kg, ideal for a commuter motorcycle with a 125 cc engine. This bike has a total length of 2035 mm, a height of 1085 mm, and a width of 760 mm. Bajaj used a semi-double-cradle frame with a 1305 mm wheelbase for this bike. As a result, this bike features a longer wheelbase than others, giving it better road stability and more control while changing directions.
View product detail: