5 Reasons Why Pulsar 150 Is The Most Loved Motorbike in Nepal for All Age Groups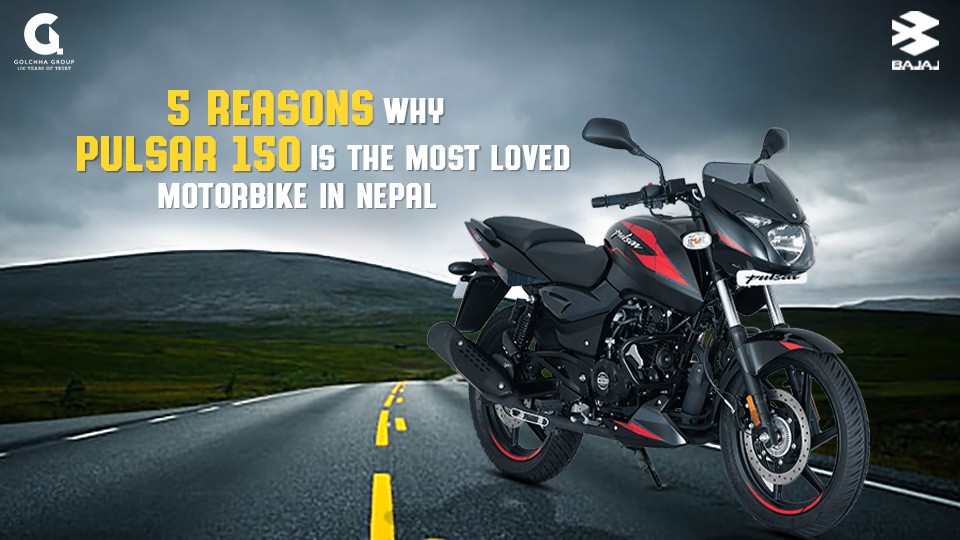 Pulsar 150 is THE most loved motorbike in Nepal! Do you have any doubts in this regards? If you do, we are here to clear them for you!
Let us begin with the fact that almost every age group, from the age of 18 to 50, have had an experience of riding the Pulsar 150 in Nepal! And their feedback? It is an absolute game changer in the field of two-wheelers!
In a country like Nepal where there is an abundance of uneven and twisting and turning roads, handling a bike at a decent speed can be a challenge. However, Pulsar 150 has changed that!
Here are 5 reasons why Pulsar 150 is the most loved motorcycle with the most reasonable price in Nepal for all age groups!
1. Easily Double Loads in the Uneven Roads of Nepal
As is already present earlier, the roads of Nepal are quite uneven. There are ups, downs, right and left turns, and best of all, uneven and non-graveled roads in abundance in Nepal.
However, the feature of Pulsar 150 is such that it can run smoothly in any conditions
People have remarked that where other bikes need the extra passenger to get down from the bike, Pulsar 150 does not need to do so.
It can easily cruise through the aforementioned roads and with two people sitting comfortably! Now, which age group would not like to have a smooth way to their destination?
This is why Pulsar 150 is very popular among all age groups ranging from 18 to 50. Whether young or old, if the bike can travel smoothly, then people will love the bike, definitely! Also, lets


2. Mile

age of the Bike is Outstanding!
Generally, in terms of Nepal, there are quite a lot of traffic jam. This is true especially in the case of city area like Kathmandu.
It should be noted that even while in traffic jam, people still want to keep their engines on. This leads to subsequent amount of fuel usage. Well, not in the case of Pulsar 150! The self-start and easy to turn off button, also called the engine kill switch, makes it easy for riders to keep their fuel in check!
Well, let us say people do not do that with Pulsar 150. Even so, the mileage of this bike is quite high! As such, you can comfortable reach your destination! Is reaching your destination not preferred by people? Of course it is!
Also Read: Top 4 Popular Bajaj Bike Amongst Youths In Nepal
3. Style and Good Looks
Pulsar 150, from the moment it launched in Nepal, has become our flagship bike because of its design and performance.
In the modern world as it is right now, people do look at the style of the bikes and then decide whether or not to purchase it.
Pulsar 150 has dominated the market with its styles and now, with its new variants! College students, mid-age workers, older people, all prefer to have it as their travel companion as it gives the good vibes to the ones who watch!
Also, according to the base of Analytics, it is a proven fact that Pulsar 150 has always been in the Top 5 Most Searched Bikes in Nepal in Bajaj Segments. Of course, the style and good looks contributed to it, no doubt!
Well, this is another reason why Pulsar 150 is loved by all Nepalese!
4. Cruising with Pulsar 150 is the Best Feeling while Riding a Two-Wheeler in Nepal!
This is not just an opinion. People who have ridden this amazing bike have all expressed this term in their feedbacks!
We need to emphasize that the cruisers are not just middle-aged people, nor are they teens or elderly people. So, it is safe to assume that people of all age groups have cruised with this bike and have had the time of their lives while doing so!
Also, the geography of Nepal may not support cruising too much. But when people have had the opportunity to cruise, they let their passion and pleasure loose!
5. Value for Money Two-Wheeler in Nepal
If you are looking for a bike is the best value for money, do not hesitate to keep Pulsar 150 in the top tier of your list!
As is already present in the article, it is an absolute beast in terms of mileage. Road coverage? It has that too! Fuel capacity? Its more than enough to travel from North to South of Nepal!
The Pulsar 150 Price in Nepal is one of the most affordable in its field. That is why the demand of our Pulsar 150 has not gone down at all!
What's more? Once you purchase this beast of a bike, we also provide you genuine spare parts in a very much reasonable price as well!
Well, these are the five reasons why the all-rounder bike Pulsar 150 is loved by Nepalese of all age groups!
If you are interested in knowing more about this bike, feel free to call us or Book Pulsar 150 online today !