How do I Apply for Motorbike Driving License in Nepal?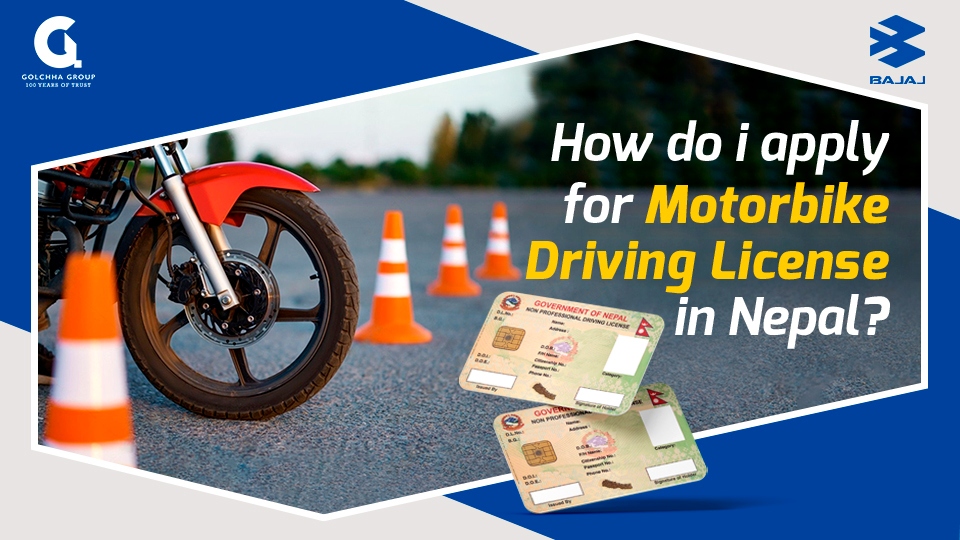 If you plan to ride on public roads, you must have a motorcycle license. A motorcycle license is compulsory and it has a number of advantages. Ride freely, you can ride freely anywhere, and you can finally get insurance coverage after you have a license of your own.
How to Apply Online?
The transport department in Nepal has recently launched a new site for signing up for your driving license. Here are the steps you should take to apply Driving License In Nepal.
1. Visit DOTM Website and create your account then log in and proceed to fill the form with the following information. Provide your full name, date of birth, and your personal phone number, and secure the account with your password followed by one security question.
2. After that you will be asked to fill up more personal details. Name, Date of birth, Gender, Blood group, Education, Occupation, Guardian's name, and relationship, Nearest transportation management office
3. Your address; temporary and permanent details
4. Citizenship details; Citizenship number, Citizenship type, Issue district, Issue date, and an image of the front and back side of your citizenship
Where to submit the document?
1. Select driving license; Select your driving category, after selecting your desired category you will have to choose the province of your choice to submit/receive your documents. People going abroad can apply for urgent services but you need to show proof of your need.
2. After selecting the place now, you need to pick the time for when you want to head for submitting your paperwork. After selecting your date an OTP code will be sent to your phone.
3. On entering your code, you will be directed to another page to make a payment, the payment can be done electronically, or you can get a voucher and pay it in the bank.
4. After that you will get a printout detail of your license form, which you will have to take it with you alongside your citizenship and the payment proof on the date you have picked.
5. Note: Do take a passport-size photo of yourself as well.
Where are the places to apply for a Bike driving license in Kathmandu?
✔ Yatayat Office, Sukedhara
✔ Yatayat Office, Thulobharyang
✔ Yatayat Office, Ekantakuna
When will the Bike Trial happen?
After submitting your form, you will be called for a written test 1 – 2 days after your submission and on passing your exam the next day you will have your bike trial.
Important Notes:
Please don't forget any documents and carry 1500 to pay for taxes on the first day of submission and around 1000 on the day of your trial to pay for using a government vehicle for your practical exam.
FAQ: Motorbike Driving License

1. What is the Minimum age for Motorbike License in Nepal?
✔ The requirement for a person to get driver's license in Nepal is 16. You can apply for your license online and choose the nearest location for your trial.
2. Can I buy Motorbike without Bike Driving License in Nepal?
✔ Yes, purchasing a motorbike doesn't require a license, although it is compulsory to have a driving license to ride one.
3. If I fail in Motorbike Trial, When Can I apply again?
✔ Don't worry if you fail your trial, you can give a re-trial two times with the same registration 10 days apart from each other.
4. What is the cost to Apply for Driving License in Nepal?
✔ To apply for driving license in Nepal, you need to pay 1500 for motorbikes and 2000 for light vehicles such as cars.
Also Read: Things To Check Before Buying Motorbike