Things To Check Before Buying Motorbike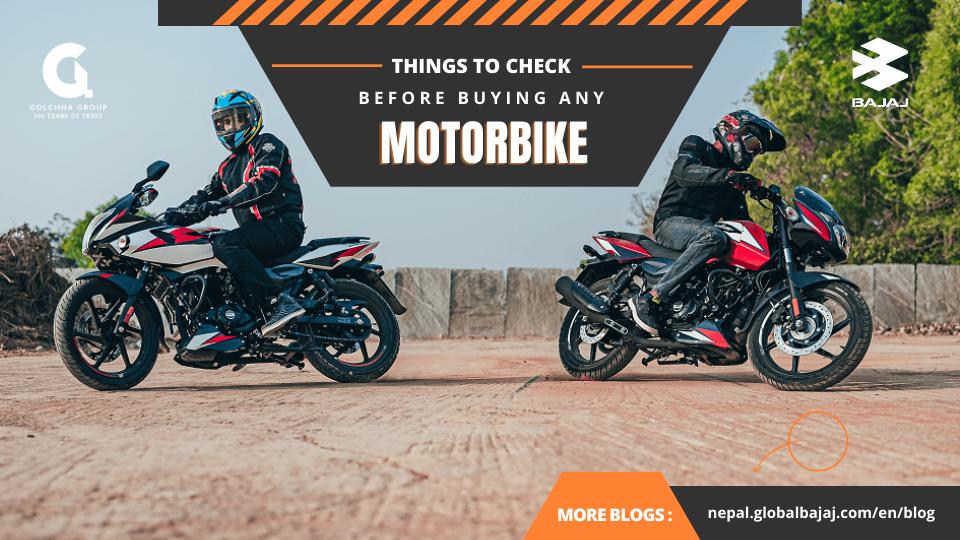 We all have different viewpoints when it comes to how we see a motorcycle. For some, it's only one of their options for going home to work or work to home. For some, it's a measure of independence for adrenaline filled rides. For some, it's a form of status symbol that allows them to stand out from the crowd.
In conclusion, if you are going to get your brand new motorbike in Nepal, you can be confused on which bike to buy, and choosing one of them is not an easy task, as each product from each manufacturer has its own features and specifications that sets them apart.
Find out why you're buying bike:
If you're searching for a bike to travel to work or college daily, seek one that's fuel-efficient, low-maintenance, and so on. If you want to buy a motorbike to go on long rides and joy rides, however, you should view bikes with a powerful engine and elegant appearance.
Conduct research:
Research thoroughly before buying to a one particular motorbike. Once you have figured out your best choice bike check the market prices. Various dealers may charge different prices for the same bike, so visit the authorized Bajaj Showrooms in Nepal.
✔ You are looking for performance and economy because you are always in the road? You work for delivery and transport services? Such as Pathao, Tootle or Online Food Delivery Bikes like Discover, Pulsar 125, Pulsar 150 or Platina 100 ES might be good choice.
✔ For high performance, sporty looks, and power then you can go for Pulsar NS Series bikes.
✔ A bit of both performance and daily usage with a touch of class, you can go for Pulsar 220F series bikes.
✔ Or you are looking for ultimate power, style, and performance. Dominar series could be your best suit.
View available Bajaj Bike in Nepal with Price List: Bajaj Bike Price in Nepal
Ensure that the bike is in good working order by carrying out a detailed inspection:
To judge a new bike fresh out of showroom is difficult. But here are some things you can do on your test ride.
Consider this before getting your motorbike:
✔ Take it on a test ride; see that handles and shifters fit well to your comfort.
✔ If you like speed, check if the tyres match your preference and style.
✔ Check on the suspension levels and driving seat. Adjusting them to required height is always an option in many bikes.
✔ Check your mirror designs they come in various shapes depending on the models and pick your best overall color
Check the chassis number:
Take the time to look for the chassis number after you've decided on a bike to buy. It's also a good idea to double-check that the license plate number and the engine number match. Finding the chassis number can be tough, but a skilled mechanic can generally figure it out quickly. Double-check that the registration certificate and the license plate have the same chassis number.
Ensure that proper documentation is in place:
Buying a motorcycle without the proper paperwork today could lead to legal problems later. As a result, double-checking for appropriate documentation before completing a purchase is critical.
Before acquiring a new bike, double-check the following documentation:
✔ Registration Certificate with the right engine and chassis number
✔ The bike's sales receipt or purchase invoice
✔ No Objection Certificate (NOC) if a Bike is moved from one Dealer to another Bike Dealer to be transferred to your name
Price is to be negotiated:
After a thorough inspection, you should ask discount with the seller if you are satisfied with the bike's technical condition and documents. You must be aware of the bike model's current market price and any other costs you may incur after purchase. Once you've ok with price, complete the paperwork, and make the payment.
Also, you can exchange bike during Bike Exchange Offer. View Exchange Offer: Bajaj Bike Exchange Offer in Nepal