Pulsar 125 - Enjoy Premium Pulsar Quality at Lowest Price & 0% Interest on EMI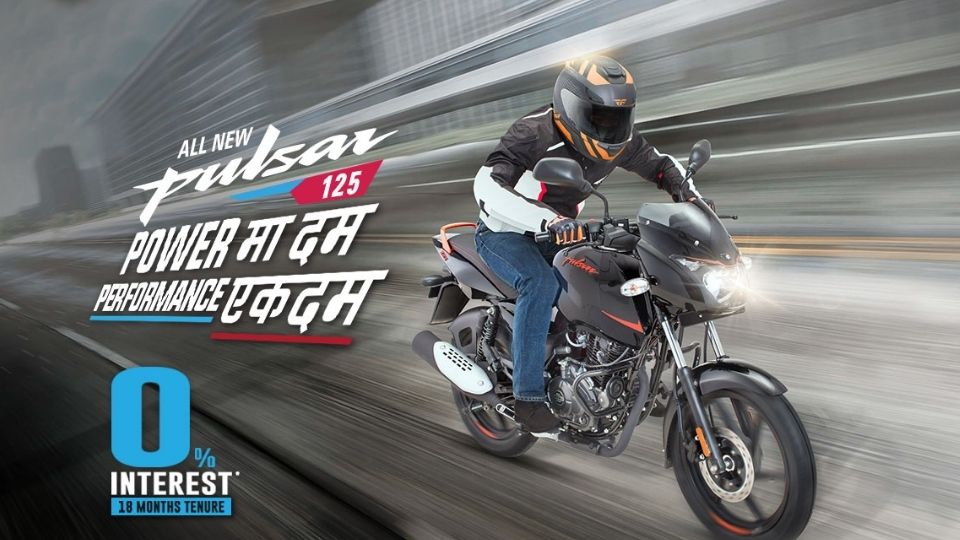 Pulsar 125 has been in the market for quite a while. Now you can enjoy this latest pulsar variant with a unique and highly appreciable offer, i.e. 0% interest.
Purchase one of the most highly-demanded and highly-purchased yet with the value of the lowest motorcycle price in Nepal!
Pulsar 125 is available on EMI with absolutely no interest amount! Isn't it great to acquire a motorcycle with the legacy from the popular pulsar clan with 0% interest?
Interested candidates can visit their nearby Bajaj showroom and gain more details on the offer! You can also contact us for more details on the offer!
Why Purchase Pulsar 125?
Pulsar has always been the favorite bike for youths in Nepal. With the simplest, highly affordable yet stylish motorcycles in the market, pulsar 125 offers all the value you need!
The Bajaj Pulsar 125 will give you the thrills of highly controllable pace along with the chills that you would only get if you were riding a high-spec sports bike!
With an engine, as the name suggests, of 125 CC, expect your two-wheeler's performance to blow your mind away!
Pulsar 125's Stylish Features
With a sleek design that makes the bike look a lot lighter, with headlights that, once turned on, can turn heads among the crowd, expect your fame to go up with the new Bajaj Pulsar 125!
Also, the highly comfortable seat is a treat for people who prefer them to be so!
Likewise, the handle makes you want to keep riding the bike without ever stopping. The smooth torque that peaks at 11NM @ 6500 rpm makes it feel like you are gliding on city roads and are cruising on village roads.
Also, do not forget about the mirrors as well! They are perfectly positioned so that your mirror-view is not obstructed at all! This gives you the advantage while cruising on your journey in Nepal where the traffic is quite unpredictable!
Do you want to upgrade to 200cc Pulsar NS?
Here's What Bajaj Pulsar NS 200 has to offer
More Reason to go for Bajaj Pulsar 125
One of the salient features of Bajaj Pulsar 125 is, it offers the value from the most popular Pulsar legacy.
As one of the most trusted bike producers in the country with a very loyal customer base, we take pride in offering the values you with a bike that you will definitely enjoy!
If you want speed in the bike, you can have it with a 5 speed gearbox.
Mileage? Not a problem! With a massive 62 KMpl mileage and a fuel tank that supports 11.5 Liters of fuel, you should not worry about taking the two-wheeler for a long journey by yourself of with your loved ones!
As is already mentioned before, the bike is sleek and lightweight. With a kerb weight of only 140 KGs, you have lighter and smoother sporty feel.
Bajaj Pulsar Disc Specifications:
Max Torque
10.8 NM
Engine Capacity
124.4 CC
Engine Output
11.8 PS
Kerb Weight
140 KGs
Fuel Tank
11.5 L
What is the Offer About?
The offer is for the Nepalese New Year 2078 that will soon be upon us. If you are looking to purchase the bike with premium features at 0% EMI, do not hesitate to contact us.
We are more than ready to assist you in terms of your queries regarding this offer!
Also, we assure you that this will not be the only offer we, Bajaj, bring to you! Keep an eye out for future offers!

Latest 2022 Edition: Pulsar NS125 Bs6 in Nepal