My Pulsar My Valentine - February Pulsar Nepal Photo Contest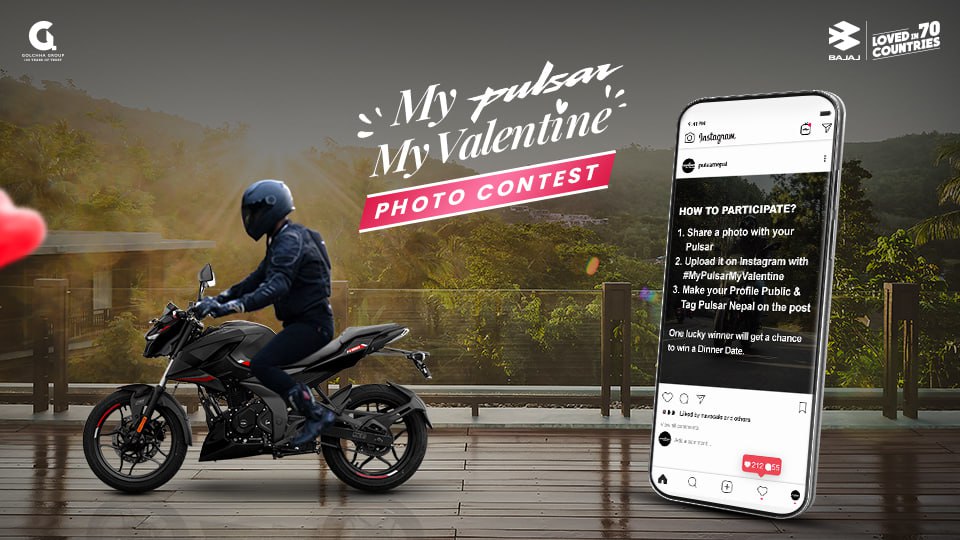 How to Participate in the Pulsar Photo Contest Contest?
✔ Take a photo with your Pulsar.
✔ Upload it on your Instagram with the hashtag #MyPulsarMyValentine and
✔ Tag @Pulsar Nepal.
✔ Follow @PulsarNepal on Instagram.
✔ Keep your Instagram profile public.
✔ The winner will be selected based on the highest number of engagement received on their photos.
✔ One Lucky winner will get a chance to win a Dinner Date.
Rules and Regulations:
1. All Nepalese who resides in Nepal can participate in 'My Pulsar My Valentine' Photo Contest.
2. The contest will run from 9th February, 2023 -till- 28th February, 2023.
3. Pulsar Nepal & Bajaj Nepal reserves the right to disqualify and remove any participants from the contest. without prior notification or disclose their personal information if they are suspected of tampering with their entries or breaching the terms and conditions of their account.
4. The prizes shall neither be transferable nor exchangeable for cash or any items. Pulsar Nepal & Bajaj Nepal reserve the absolute right to substitute the prizes with that of similar value at any time with or without prior notice and subject to TDS.
5. The decision of Pulsar Nepal & Bajaj Nepal shall be final and conclusive. No appeal and/or correspondence will be entertained.
6. Winner will be notified via digital handles of Pulsar Nepal & Bajaj Nepal.
7. Pulsar Nepal & Bajaj Nepal will not be held liable in the event the winner(s) do not receive this notification email for any reason whatsoever or fail to collect his/her prize within 7 days from the date of prize announcement.
8. By participating in the contest, participants have expressly consented for their particulars to be posted in any method or medium that Pulsar Nepal sees fit for the purpose of announcing the winners.
9. Acceptance of the prizes constitutes the winners' unconditional agreement and permission to Pulsar Nepal & Bajaj Nepal and its agencies to use the winners' names, winner and his/her friends' photograph and/or likeness for purposes of editorial, promotional, marketing and/or other purposes without further compensation and notice. Pulsar Nepal fully reserves its rights to such forms of publicity and publication.
10. Pulsar Nepal reserves the right to at any time add to, delete, vary or amend the terms and conditions herein or change or modify any aspect of this contest, in whole or in part at any time and from time to time and at its sole discretion without notice and without liability to any participant or any other party.
11. Pulsar Nepal and its affiliates (including its employees, consultants, and agents) shall not be liable for any delays, interruptions, loss or damage whatsoever (indirect or consequential) incurred or suffered by any participant or winner.