Advantages of Motorbike Insurance in Nepal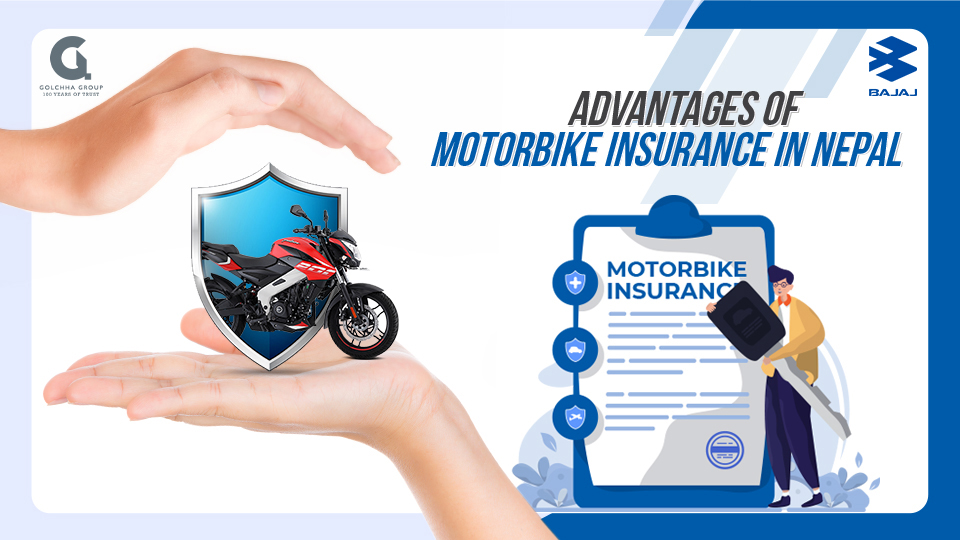 Insurance is the best way to decrease risk while riding your motorbike from theft to road accidents. As the road is not always a safe place, it is better to follow preventive measures and not worry about the financial crisis if you do come across an accident.
Compulsory by law
Third-party insurance is mandatory by law in Nepal. Anyone who doesn't have their insurance papers, license, and the blue book is always liable for being taken action by the law. A precautionary measure would be to do third party insurance. Even to renew your blue book in Nepal you need to provide valid Insurance.
Peace of mind
Insurance has two purposes. Prevention of possible danger and stress. Because you are being responsible and doing the right thing, you can be certain of financial safety and mental peace if you are covered. When you have valid insurance and renew it on time, you protect your two-wheeler and yourself from unforeseen occurrences.
Types of Motorbike Insurance Policy:
✔ Comprehensive insurance (Full Insurance)
✔ Third party Insurance
Third Party Insurance
Third Party Insurance policy protects you against damages including a third-party person or their property while riding your covered Motorbike.
It might not be easy to cover for the third party as the amounts are never fixed. If you have insurance, your insurance provider will pay the compensation. Any legal cases that may arise as a result of an unpleasant event will also be covered by your insurance.
Comprehensive Coverage (Full Insurance)
A Third-Party Insurance Policy only covers third-party damages and resolves any legal concerns that may arise. However, a Comprehensive Two-Wheeler Insurance Policy cover damages to both you and the third party. It provides extensive coverage of both natural and man-made disasters.
In addition to the normal policy, premium features of made available by many insurance companies, where you can add a pillion rider (back seat), zero deprecation, and Two-Wheeler Insurance Personal Accident Coverage are some of them.
Medical Coverage
In case of an accident resulting in major health issues or disabilities, the insurance covers a large number of finances depending on the insurance subscription. Medical bills can't be pre-determined, thus it is wiser to think about your wellbeing.
Discounts
A two-wheeler insurance policy is not as costly as it seems. You don't have to pay the whole amount of the premium each time you renew your insurance. You will get discounts on your coverage if you drive safely and do not file a claim on your policy. The No Claim Bonus will begin with the initial renewal of two-wheeler insurance.
Insurance Process:
✔ Fill form from your choice of insurance
✔ KYC form should be filled out as well
✔ Motorcycles proof of purchase
✔ Blue Book Original/Photocopy
Also View: Things To Check Before Buying Motorbike