Latest Bajaj Bikes in Nepal in 2023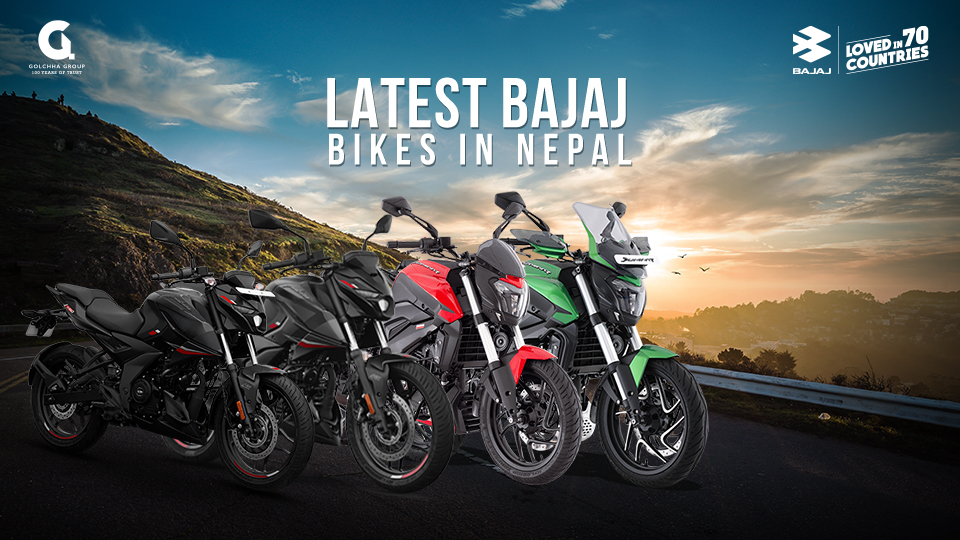 Home to breathtaking landscapes and stunning terrains, Nepal is indeed a paradise for all bikers! But which bike will suit you best? Whether a beginner or an experienced biker, Bajaj has something to offer to every rider. The stylish, affordable, reliable and high-quality range of Bajaj Bikes in Nepal has gained wholesome popularity in Nepal for the right reasons. Gear up, and let's ride into the blog to explore the latest Bajaj bikes in Nepal.
Table of Contents
Bajaj Bikes in Nepal: An in-depth overview
A look at top-performing Bajaj bikes in Nepal
Bajaj Pulsar NS 125 BS6

Bajaj Dominar 250

Bajaj Dominar 400 BS6

Bajaj Pulsar N160 Dual ABS

Bajaj Pulsar N250 Dual ABS
Wrapping Up
Bajaj Bikes in Nepal: An in-depth overview
Bajaj Nepal, a well-known name in the Nepalese market, is the authorized distributor of Bajaj bikes in Nepal. With a legacy dating back several decades, Bajaj has established itself as a trusted brand that offers high-quality bikes that cater to the changing needs of riders worldwide. From stylish to powerful touring bikes, Bajaj Nepal provides a wide range of motorcycles designed to meet riders' unique needs. With a strong focus on innovation, style, and affordability, Bajaj continues to push the boundaries of what's possible on two wheels. And with their commitment to producing bikes that are not only stylish but also reliable, safe, and affordable, Bajaj has become a top choice for riders in Nepal.
A look at top-performing Bajaj bikes in Nepal
Whether you're looking for the top-performing Bajaj bikes in Nepal or even the Bajaj bike price in Nepal, you're at the right place. Let's get started!
✔ Bajaj Pulsar NS 125 BS6:
The Bajaj Pulsar NS 125 BS6 is a recently introduced potent bike with a 124.45 cc 4-stroke, SOHC 4-valve, air-cooled, BSVI-compliant engine that delivers 8.82 kW of maximum power and 11 Nm of torque. The 5-speed transmission and telescopic fork front suspension make it a comfortable ride, while the 240mm front disc brake and 130mm drum CBS in the rear ensure smooth braking. Offering the color options of Beach Blue, Fiery Orange, Burnt Red, and Pewter Grey, the bike has a top speed of 103.29 kmph, weighs 141 kg and has a spacious 12L fuel tank. With its powerful LED head and tail lamps, tubeless tires and attractive design, you can expect a comfortable day and night ride. Safe to say, the Bajaj Pulsar NS 125 BS6 is the perfect bike for youngsters seeking power and style.
Pulsar NS 125 BS6 will cost you NRS. 279,900.
✔ Bajaj Dominar 250:
The Dominar 250 is a power-packed bike promising you a thrilling riding experience. With its muscular front and streamlined body, this bike delivers an impressive look and feel. The 248.77 cc engine offers a maximum power of 19.85 kW and maximum torque of 23.5 Nm, making for a smooth and responsive ride. The bike has features like ABS 300 mm disc brakes, telescopic 37 mm USD fork suspension, and multi-step adjustable mono shocks for optimum handling and control. You can go all back or red with Dominar 250. With its LED headlamps and 13-liter fuel tank, the Dominar 250 is perfect for long-distance touring. The combination of power, comfort, and safety make the Dominar 250 a standout choice for anyone looking for a comfortable journey.
You can make Dominar 250 yours at NRS. 567,900.
✔ Bajaj Dominar 400 BS6:
The Dominar 400 BS6 model is the ultimate style-infused powerful bike designed exclusively for thrill seekers. This bike boasts an eye-catching muscular design and advanced features, including dual channel ABS, full LED lighting with Auto Headlamp On, and a specialized slipper clutch. With a powerful 373.3cc engine producing 40 PS of power and a maximum torque of 35NM, the Dominar 400 BS6 can handle any adventure. It also has a generous fuel tank capacity of 13L and a kerb weight of 184.5 kg, making it a solid choice for long-distance riding. With impressive performance and features, the Dominar 400 BS6 is ideal for riders looking for an enjoyable, high-performance touring experience.
Get your Dominar 400 BS6 at NRS. 644,900.
✔ Bajaj Pulsar N160 Dual ABS:
The Pulsar N160 is a dynamic and eye-catching naked street fighter bike that functions with the latest BS IV-compliant engine technology. With a displacement of 164.82 ccs and an impressive power output of 16 PS at 8750 RPM, this bike delivers a smooth, responsive and exhilarating ride. In addition to its remarkable performance, the Pulsar N160 is equipped with twin-channel ABS, providing an added layer of safety for riders. The 5-speed transmission improves the riding experience, ensuring smooth gear shifts. Furthermore, the built-in USB charging feature provides added convenience on the go. The bike is a thrill to ride and with stylish design with its dual ABS, larger disc brakes, and eye-catching crystalline LED tail lamps. Available in Brooklyn Black, the Pulsar N160 owns a fuel tank capacity of 14 liters, a ground clearance of 165mm, and a light kerb weight of 164 kg, making it a versatile option for riders seeking a premium street fighter bike along with the perfect fusion of performance, style, and practicality.
You can get your Pulsar N160 dual ABS at NRS. 379,900.
✔ Bajaj Pulsar N250 Dual ABS:
The Pulsar N250 Dual ABS is a formidable motorcycle with exceptional performance, high-end features, and cutting-edge technology. With a 249.07cc fuel-injected engine that delivers 24.5 PS of power and a maximum torque of 21.5 Nm, this bike can provide a razor-sharp response to throttle inputs, making for an enjoyable ride. The smooth gear shifting and bigger disc brakes ensure enhanced rider safety. The dual-channel ABS and BS6 compliance make it a reliable and environmentally friendly choice for riders.14 liters fuel tank and a kerb weight of 162 kilograms, the Pulsar N250 Dual ABS is a perfect blend of performance and convenience. Additionally, the Pulsar N250 also comes with USB mobile charging and LED lighting, making it a joy to ride and a practical and stylish option for riders looking for a high-performance bike with modern features and safety features.
You can book your Pulsar N250 dual ABS at NRS. 489,900
Wrapping Up
Bajaj is keenly committed to evolving its products with new technologies and innovations. With so many options available, you can pick your favorite Bajaj Bikes in Nepal that can suit your needs and budget. From stylish and performance-driven options to budget-friendly choices, Bajaj has a bike to meet every need and taste. So the next time you're going for a long ride or riding the busy city streets, do it in style and comfort with the Bajaj, powered by the unparalleled quality of Bajaj.
FAQs
What are the latest Bajaj bikes available in Nepal?
Some of the latest Bajaj bikes available in Nepal include the Pulsar NS 125 BS6, Bajaj Pulsar 150, Bajaj Dominar 400, and Avenger 200 Cruise.
Which Bajaj bike has the highest mileage?
The highest mileage bikes are Bajaj Platina 100 with 80 Km/L* and Bajaj CT 100 with 89.5 km/L* of mileage. In Nepal, Bajaj Platina, with 96.9 Km/L, has the best mileage.
What are the key features of the latest Bajaj bikes?
The latest Bajaj bikes have various features, including advanced technology, modern design, powerful engines, efficient fuel consumption, and superior handling and control. Some models also have additional features like LED lighting, digital instrument panels, and disc brakes.