How Bajaj Bikes Offer Adventure Biking, touring to Commuting with its Range of Products?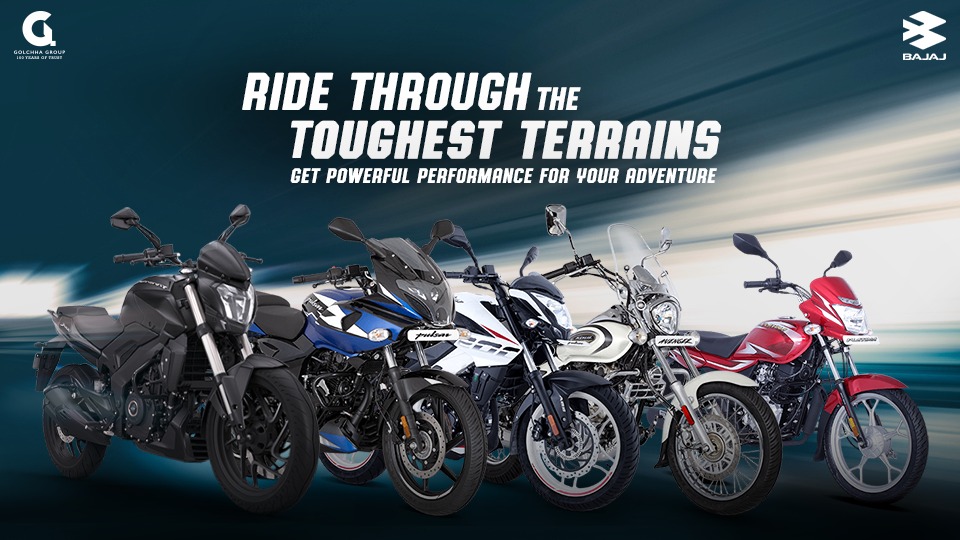 We are here to ensure our customers have a range of bikes to choose from whilst gaining the benefits of regular use as well as the thrills of adventure and enjoyment of touring.
Having a two-wheeler in Nepal is a requisite for many; all age groups considered. Moreover, we have managed to provide all age groups with their respectively demanded bike in the form of variants!
To meet the demands of our customers we have come up with a range of Bajaj motorbikes in Nepal that are bound to turn heads while in action!
1. Coverage of all Segments of the Two-Wheeler World
Bajaj has produced flagship two-wheelers in Nepal! Those two-wheelers have made an everlasting impression amongst the regular as well as part customers!
Both the cruiser segment and tourer segment are already famous with the Dominar and Avenger versions. The racing aspect is represented by variants above 200 CC, especially the Pulsar 220 and NS 200. The popular Discover offers commuting regular trips for all age groups. With their amazing specifications, the bikes are one of the most in-demand and highly rated bikes in the country!
2. Wide Range of Products to Choose From
The bikes vary not only in terms of style and look. They are upgraded and are made more applicable in a country with unpredictable roads.
If you are looking for a sporty bike, we have one that can travel in-country as well as urban roads!
Also, if you are looking for a comfortable bike that can take you to your destination with the utmost comfort.

3. Top Class Performance by All the Variations of the Launched Products
If you are looking for smooth performance, you are making the right choice in purchasing a Bajaj Bike.
Along with performance, you also get the option of choosing from a wide range of bikes.
Dominar bikes are for customers who like to have the thrill of sports and touring. Its design and specifications allow itself to be called the best Sports Tourer bike. Anyone who is interested in obtaining the thrills will definitely feel comfortable with the Dominar variant!
The other bike that is a highly-rated variant from Bajaj is the Pulsar variant! This two-wheeler is highly demanded and loved by the Nepalese youth. With its stunning and stylish looks and very affordable price, it is one the go-to bikes in the competitor price segment.
Avenger variant of Bajaj bikes are all about cruising comfortably! Its sleek design and comfortable seating allows the customer to enjoy the ride while it smoothly takes you to your destination!
If you want the best mileage, then look no further than Discover and Platina variants of Bajaj Motorcycles! Their performance is matched by the mileage that they provide. As such, the customers who have experienced the long-drive capability of these variants always have praise for them!
If you want to take a single test drive in any of the variant mentioned above, it will be the one to remember for you!
4. The belief of Bajaj, and the Customers Alike Resulting in Excellence
Over the years, we have been utilizing the new trends and posing for new stances to fulfill the increasing demands in the industry. Likewise, our customers have put forward accountabilities towards us with all the faiths built so far. As a result, the demands have been fulfilled with the varieties, price range, after-sales services, post-purchase support, and many more. The brand varieties we have provided so far have resulted in company excellence and customer satisfaction has warranted it.
If you are interested in enquiring, please feel free to send us an inquiry or call us. You can also Book Bajaj Bikes Online.
Also View: Bajaj Bike Price In Nepal