Everything you need to know about Bajaj Pulsar 220F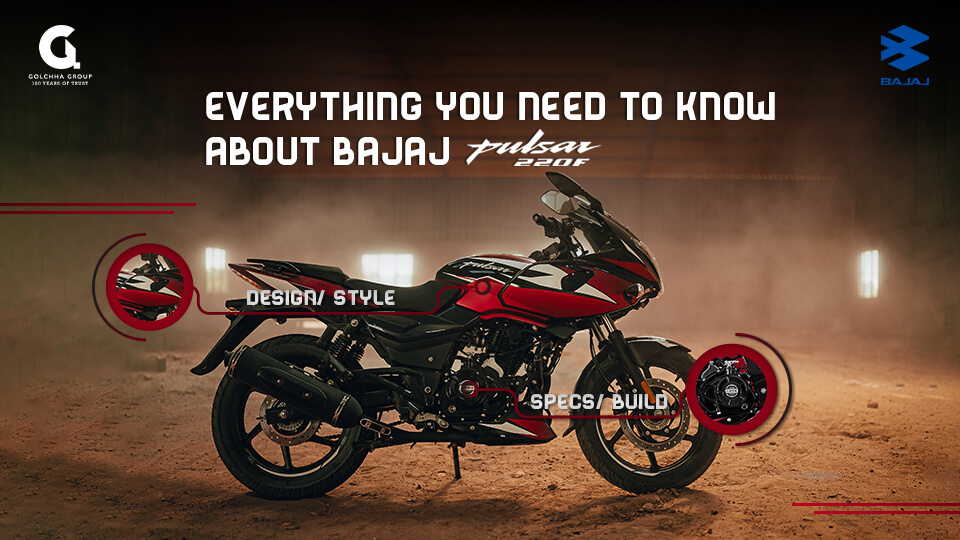 The new Bajaj Pulsar 220 was introduced in the market on 2016. 220F motorbike has received many improvements and advancement since then. Pulsar 220F has become more stylish and improved its built quality over these years. Bajaj has added variations of color options and advanced the engine quality as well. The bike has made its reputation quite well in Nepali market. Today, with the support and love of all Nepalese Bajaj Bikes are built in Nepal at Hulas Auto Craft.
Specs/Built
The Pulsar 220F is an economical four-stroke motorcycle with a DTS-I, oil-cooled, single-cylinder powerplant. The engine has a capacity of 220 cc and produces a maximum power of 20.65 bhp at 8500 rpm and a maximum torque of 18.55 Nm at 7000 rpm. The front of this bike is equipped with telescopic forks. The rear of the bike has a 5-step adjustable nitrox shock absorber for good support and balance while riding on the road. The front and rear disc brakes are 260 mm and 230 mm respectively. There is comfortable split seating.
Design/Style
The bike features athletic appearance and can provide a performance-ready bike for those who have helped it become a cult classic over the years. Vertical dual headlamps, a matte black exhaust muffler, and reflective strips on the wheels distinguish this bike from earlier models. The instrument cluster is surrounded by faux carbon fiber and includes a backlit display. The color is blue. There have been no mechanical modifications, and the bike is BS compliant. There has a 5-speed transmission. The bike's complete package has made it a hit with the public. It has a semi-fairing that adds to the bike's attractiveness. Its aerodynamics are both beautiful and functional.
Arrival
We have Bharat Stage (BS4) model in Nepal and official launch date of Pulsar 220F BS6 model is yet to be announced.
Comparison (Pulsar 220F ABS and Non-ABS)
ABS
Abs in bikes adds and extra feature, which comes in really valuable in busy roads when you need timed braking but there is a difference in price. (Click for - Price of Pulsar 220F ABS in Nepal)
Non-ABS
If you are not an aggressive rider and you are looking for optimal power performance for you preferred use, not choosing abs isn't going to affect you in the long run. (Click for - Price of Pulsar 220F in Nepal)
Reasons why 220F is Popular Bike in Nepal in all age group
1. Performance with mileage: When you are unsure about your usage but you still want a strong bike to travel around and be economical.
2. Looks and Design: The bike is comfortable to sit on not just for the rider but also for the person in the back seat. The design is very slick and comes in various color.
3. Power: Obviously Pulsar 220 is more powerful, the acceleration on this bike can be really felt and followed by proper braking technology. Picking up speed and decelerating feels natural.
4. Fuel Tank: 15 liters tank, which is enough for the streets of Nepal or even going on a long tour.
5. Stability: Cross winds have a minimal impact. On highways, it's really stable.
Frequently Asked Questions On Bajaj Pulsar 220 F:
Q1. What is the city Mileage of Bajaj Pulsar 220 F in Nepal?
✔ The city Mileage of Bajaj Pulsar 220 F is 40 Kmpl.
Q2. What is the Power of Bajaj Pulsar 220 F?
✔ The power produced by Bajaj Pulsar 220 F is 20.93 PS @ 8500 rpm
Q.3 What is Bajaj Pulsar 220 F Top Speed?
✔ Bajaj Pulsar 220 F has a top speed of 136 Kmph.
Q4. What are different variants for Bajaj Pulsar 220 F?
✔ The different variants of Bajaj Pulsar 220F are Bajaj Pulsar 220 F ABS & Bajaj Pulsar 220 F Non ABS.
Q5. What is the Tyre Type of Bajaj Pulsar 220 F?
✔ Bajaj Pulsar 220 F has Tubeless tyres.
Also View: Bike Exchange Offer in Nepal