Bajaj Grand Exchange Fest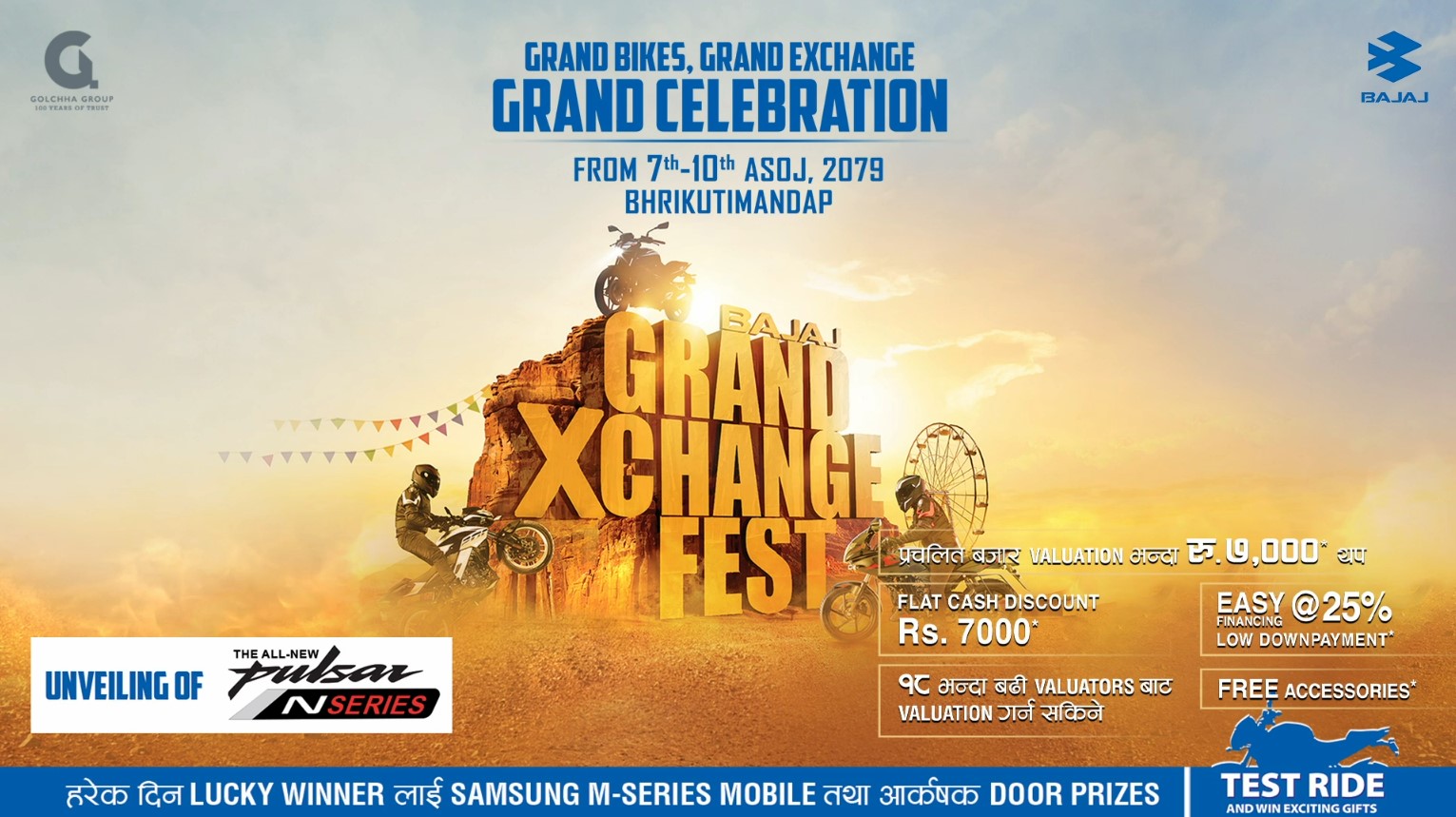 Bajaj Grand Xchange Fest
Grand Bikes, Grand Exchange, Grand Celebrations !!
Kathmandu, 22 September, 2022 – Hansraj Hulaschand & Co. Pvt. Ltd, the sole authorized distributor of Bajaj motorcycles in Nepal has announced the "Bajaj Grand Xchange Fest" with the title"Grand bikes, Grand Exchange, Grand Celebration". This offer starts from the 7th of Ashoj to the 10th of Ashoj at Bhrikuti Mandap, Kathmandu.
In this offer, customers can bring an old bike of any brand and return home with a new Bajaj bike which can be valuated by more than 18 valuators. Along with this, customers can also get Rs 7,000 more cash than the prevailing market valuation of any motorcycle with an additional flat cash discount of Rs. 7000.
In addition to this, Bajaj Nepal also provides easy financing, 25% down payment, and free accessories. Moreover, every day one lucky winner will get a chance to win Samsung M-Series Mobile and attractive door prizes. Customers can also take a test ride and win exciting gifts under this offer.
This mega event will include the performance of Anuprastha on 7th of Ashoj. There will also be an unveiling session of the Pulsar N series.
Live Band performance on 1st Day by - Anuprastha, 4 pm onwards at, 7th Ashoj, 2079, Bhrikutimandap, Kathmandu.

🪁यसपाली दशैं र तिहार चाडपर्व को अवसरमा बजाज बाईक चढ्नुहोस् आधा को आधा मुल्यमा | 🪁
कुनै पनि BRAND को पुरानो bike/scooter लिएर आउनुहोस र नयाँ Bajaj को bike लिएर घर फर्कनुहोस।
✔ प्रचलित बजार valuation भन्दा Rs. 7,000 थप
✔ Flat cash discount- Rs 7,000
✔ Easy financing @ 25% Down-payment
+
Free Accessories
▪ 𝗨𝗻𝘃𝗲𝗶𝗹𝗶𝗻𝗴 𝗼𝗳 𝗣𝘂𝗹𝘀𝗮𝗿 𝗡 𝗦𝗲𝗿𝗶𝗲𝘀 ▪
👉DATE: 7th Asoj to 10th Asoj, 2079 B.S.
📌Location: Bhrikutimandap, Kathmandu
✅More than 18 Valuators