Aaamamaa 25 Guna: Bajaj Dashain Campaign from 10th September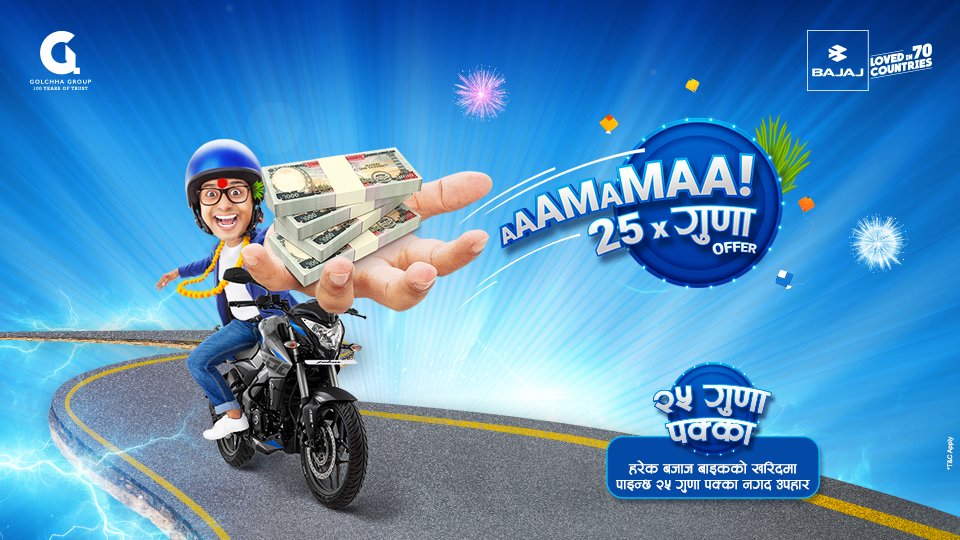 As the countdown for Dashain begins, Bajaj plans to fuel the celebrations with an exciting campaign that is sure to blow your mind. As Bajaj starts its "Bajaj Dashain Campaign: Aaamamaa 25 Guna" from September 10th to November 30th, we urge you to get ready for the ride of a lifetime! Promising you an exciting thrill to the biggest offers we present you "Aaamamaa 25 guna"!
So, let us break the suspense and get right into the specifics to see how Bajaj plans to make this festive season the best of all!
Table of Contents
What is the Offer?
How It Works
Want a peek into the campaign?
So Don't Wait!
What is the Offer?
Honoring our 25 years of leadership, we want to celebrate this glorious success with all of you! And what else could be the best time to celebrate other than the joyous occasions of Dashain, Tihar, and Chhath, ensuring that the festivities are celebrated to their fullest? With the "Dashain Campaign," starting from 10th September to 30th November, upon purchasing any Bajaj bike, you are guaranteed a sure-shot 25 times cash prize. Yes, that's right! So, do not keep calm as Bajaj makes its biggest offer ever, a sure-shot cash prize at every purchase! Where else does this happen right?
How it Works
During the campaign period, which is from 10th September to 30th November, customers who purchase a Bajaj bike will have the opportunity to participate in an exciting lucky draw. Upon making a purchase, your name, phone number, address, bike's serial number, and chassis number will be collected for the draw. The lucky draw reveals numerous slips, each containing different cash amounts. What is exciting is the chosen slip determines the prize to be awarded! And now, be prepared for the magic: whatever amount is written on the slip, you will receive a stunning 25 times that sum!
Want a Peek Into the Campaign?
Whether you draw a slip with 100 rupees or 1,000 rupees, the multiplier effect ensures an exciting reward. For instance, if your luck brings you a slip with 100 rupees, you will walk out from the showroom with 2,500 RUPEES(100 x 25)! And if you're fortunate to draw a slip with 1000 rupees, you know what you signed up for!
So Don't Wait!
Aren't you thrilled to participate in the Dashain Campaign? Mark the dates: September 10th to November 30th, 2023. This festive season, bring home your favorite Bajaj bike and ride away with a sure shot 25 times cash prize!
So get ready, and gear up to
participate in this exciting campaign
where there is something for everyone
!