7 Amazing Values Bajaj Offers as The Number #1 Two-Wheeler Company!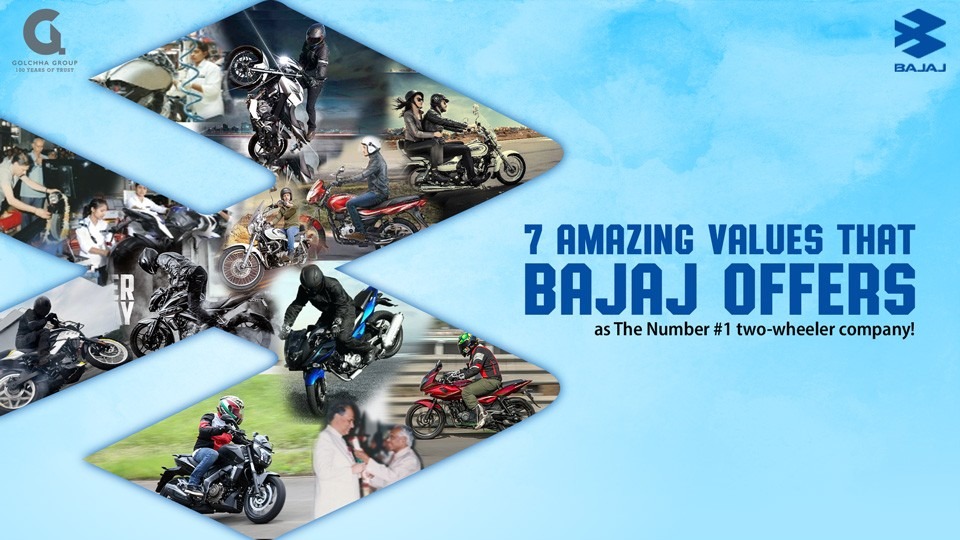 We, Bajaj Automobiles, are immensely proud and ecstatic to mention that our bikes and two-wheelers are more in demand now than ever before!
Firstly, the current status and demand of our bikes are possible because of our precious customers without whom we would not be where we are today!
Secondly, the bikes that we produce are never produced half-heartedly. We put our heart and soul into meeting the demands of the customers and are proud to mention that that we have lived up to the expectations of our customers!
Finally, as a matter of fact, the sales and demands of our two-wheelers prove that we are the undisputed number one two-wheeler company in the market! Not that is something to have a massive cheer about!
Here, in this article, we discuss about the five amazing values that we, Bajaj, offer as the number one two wheeler company!
1. Guaranteed Thrills and Excitement in Rides!
There is no doubt that people who love to ride bikes also love to have some thrills and excitement while doing so!
Our bikes are designed in such a way that you will be able to have fun no matter where you take the ride to!
No matter where you are taking it, uphill or downhill, or even in plain paved roads, you will not find any difference in the performance of the bike in Nepal as well as in global aspect!
This is one of the foremost reasons why customers are looking forward to our new products and yet still love our older products!
2. Land Topography Has Not Stopped Our Two-Wheelers in Ensuring Riders Reach Their Destination
Yes, even if the land in Nepal is quite difficult to ride any type of vehicles on, they have not stopped the riders in reaching their destinations!
Moreover, reaching their respective destinations is even easier with our two-wheelers which, in reference to earlier statement, performs very well in any type of road, rural or urban!
If you want to talk about taking a bike from the Terai region to somewhere in the Hilly reasons, you do not have to think much. Simply make sure that you are filled and ready to drive. The rest will be done by the bike itself!
Also, let us not forget to point out about the FI Fuel Injection. This allows for the smoothest processing of the fuel in any weather! Even in cold weather, the bike does not show any sign of slowing down due to fuel and performs at the peak of its power!
This is another reason why people prefer to use our bikes. Especially while taking a long drive with, or with an aim to visit, their loved ones!
3. Mileage of All Our Two-Wheelers Are in A Class of Their Own!
When you think about taking your beloved vehicle for a ride, one of the primary thoughts you will have is about the fuel. Well, that is not the case with Bajaj bikes!
With thorough research and top of the notch technologies, we have ensured that all our motorcycles in Nepal have a great mileage so that our dear customers do not have to stop time and again on their way to their preferred destinations!
Likewise, if you are ready, with or without anyone to go for a long drive, rest assured! All our bikes, whether existing ones, or the ones that will come in the future, will have similar traits in terms of mileage!
4. Style Does Do the Talking!
Huge percentage of our customers have hailed praises on the styles of our bikes that the way the motorcycles look while taking a drive!
After all, the outer looks of the bike are THE first thing that a possible user, buyer, or even bystanders see! Making an everlasting first impression has never hurt anyone. And, making an optimistic everlasting impression via our two-wheelers has always been our prime focus!
Well, as is already mentioned earlier, customers have hailed many praises and appraisals for our taste on style of the bikes. Also, you have loved how even small attentions to specific details have made a revolutionary impact on the demand of the bikes!
5. Wide Range of Variations
Of course one of our main attractions is the number of variations that we bring to our products! Keeping the customers' taste and demand in mind, obtained via thorough research, we have a number of variations for a single bike! In conclusion, it is very much safe to assume that each and every bike that we produce has a different variant that will suit your taste and demand!
Also, it is necessary to mention that the variations in our bikes suit the people of all age-groups! We have made available the bikes of the Commuter-to-Cruiser-to-Sporty designs and CC.
This variation in our two-wheelers has made our customers very happy and comfortable in dealing with us!
6. Genuine Spare Parts for All of Our Two-Wheelers
Spare parts are something customers will always look forward to. They may even demand to know if the spare parts of the bike compromise on the quality!
Well, let us assure you that all of the spare parts of any Bajaj two-wheeler has no compromise on the quality! They perform in the same way as the original parts. Let us just say that they are a direct twin to the original parts that come along with the bike!
Also, the spare parts are very much cost-efficient and have been made available on a budget price without any compromise on the cost, as mentioned earlier!
7. Guarantee and Post-Purchase Services of Bajaj Is the Main Contributor!
Talking about the services that our customers receive after they purchase any Bajaj bike, there are many that can be mentioned!
Firstly, if there are any issues in the physical aspect of your bike, we are here to assist you in any matter we can!
Secondly, you are totally entitled to have the servicing facilities that has been a trademark of Bajaj!
Also, let us mention that Bajaj has a number of authorized dealers all over Nepal; in 100+ locations to be more specific! If you are looking for any location, please feel free to click here.
Hence, these seven points emphasize on how we, Bajaj, are the NUMBER ONE two-wheeler company in the market!