25th Year of Leadership - Bajaj Nepal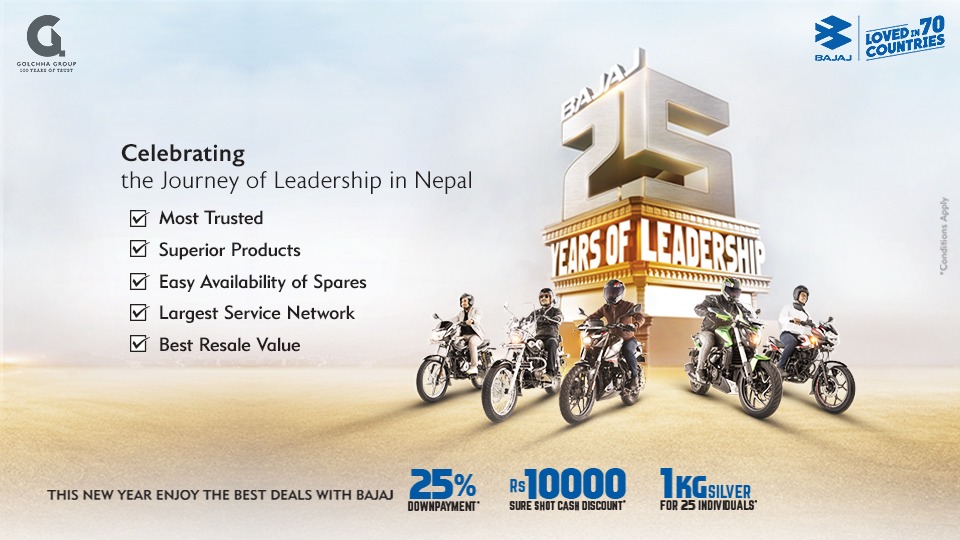 Bajaj Nepal is a name that is synonymous with quality, innovation, and customer satisfaction. As the company celebrates its 25th year of leadership, it's worth looking at its journey over the years and why it stands out from the rest!
Table of Contents
Bajaj Nepal: A look at the glorious history
What made Bajaj Nepal come this far?
Most Trusted
Superior products
Largest service network
Best resale value
Easy availability of spares
What does the future hold for Bajaj Nepal?
Cheers to many years of thriving!
Bajaj Nepal: A look at the glorious history
HH Bajaj, the authorized dealer of Bajaj motorcycles in Nepal, has been a prominent player in Nepal's automotive industry since 1998. Backed by the Golchha Organization, one of Nepal's leading corporate entities, the company has established a strong reputation over the years. With the largest distribution network of 81 outlets, HH Bajaj has successfully catered to the diverse needs of Nepali bike riders by offering a range of 18 models designed to suit all kinds of riders. The company's relentless commitment to providing quality products and services is reflected in its easy financing schemes and availability of genuine spare parts nationwide. Over the years, the company has faced its share of challenges but has remained steadfast in its core values of quality, innovation, and customer satisfaction. Today, HH Bajaj enjoys a strong presence nationwide and has played an immense role in boosting motorcycle sales growth in Nepal.
What made Bajaj Nepal come this far?
Most Trusted
Bajaj boasts a rich legacy and reputation. Throughout the years, Bajaj has positioned itself as a brand that reflects the ideals of reliability and durability for motorbikes. Because of its history and commitment to innovation, Bajaj has earned a solid reputation and is one of the most dependable names in the motorcycle business. The invention has introduced innovative trends to the market, not just in Nepal but internationally, as a corporation that embraces and believes in new technologies and designs. Bajaj bikes are composed of high-grade materials that provide a long lifespan and promise remarkable performance, further enhancing their quality. Also, Bajaj offers its client a wide range of bikes made to meet the demands of all riders and a robust presence of service networks around the country. Overall, Bajaj has become one of the most trusted brands in the motorcycle industry because of its reputation for quality, dependability, innovation, and service.
Superior products
The Bajaj motorcycles are built to last, with high-quality materials and components that ensure durability and reliability. From Dominar - a sports tourer for adventure enthusiasts, Pulsar - a best-in-class sports bike designed for the cityscape, Discover - a stylish ride with the power to explore beyond urban limits, Avenger - a ride of kingly comfort to Platina - a mileage champion for the fuel-conscious rider, Bajaj has a diverse range of products to suit every rider's needs. All the products of Bajaj offer superior performance, smooth acceleration, excellent handling, and robust engines, making them a joy to ride. Their products are priced competitively, with a range of motorcycles at different price points to suit everyone, from commuters to enthusiasts. Overall, Bajaj's superior products result from the company's focus on innovation, reliability, performance, affordability, and a wide range of products.
Largest service network
Bajaj's largest service network in Nepal has made it incredibly convenient for Bajaj motorcycle owners to get their bikes serviced, maintained, or repaired. The widespread network of service centers across the country means riders don't have to travel long distances to get their bikes serviced, saving them time and money. In addition, the largest service network also ensures the ready availability of genuine parts, which is crucial for maintaining the bike's overall performance and durability. With the extensive service network, owners can easily find genuine Bajaj parts at authorized service centers, making it easier to keep their motorcycles running smoothly. Overall, the largest service network of Bajaj has contributed significantly to the brand's popularity and success in Nepal.
Best resale value
Bajaj motorcycles have excellent resale value due to their high-quality, durability, and reliability. Bajaj's comprehensive service network with authorized service centers and dealerships in most parts of the country allows Bajaj motorcycle owners access to genuine spare parts and professional servicing, which helps keep their motorcycles in good condition. A well-maintained bike is likely to hold its value in the resale market. Bajaj's diverse range of motorcycles, catering to various market segments and price points, has contributed to a large and loyal customer base, ensuring consistent demand in the resale market. Furthermore, the timeless design of Bajaj motorcycles has remained popular over the years, putting even older models in demand due to their classic and iconic appearance. Overall, Bajaj's reputation for manufacturing high-quality motorcycles, wide service network, range of motorcycles, and timeless design contribute to its excellent resale value.
Easy availability of spares
Bajaj has a vast network of authorized service centers and spare parts dealerships nationwide, ensuring easy availability of genuine spare parts. Its dedicated team of engineers designs and manufactures high-quality spare parts that are rigorously tested to meet Bajaj's strict quality standards. Bajaj's robust distribution network ensures the timely delivery of spare parts to its service centers, minimizing motorcycle downtime. It offers spare parts at different price points, backed by a warranty, allowing customers to choose the parts that fit their budget. Overall, Bajaj's commitment to customer satisfaction is evident in its easy availability of high-quality spare parts, ensuring a hassle-free ownership experience.
What does the future hold for Bajaj Nepal?
Looking to the future, Bajaj Nepal has ambitious plans for growth and expansion. The company is constantly innovating and introducing new products to meet the changing needs of Nepalese consumers. In the next few years, Bajaj Nepal plans to launch several new models and expand its distribution network further. The company's focus will be on delivering superior customer experiences through innovative marketing initiatives, reliable products, and excellent service. Bajaj Nepal is well-positioned to continue its success in this industry and to maintain its leadership position in the years to come.
Cheers to many more years of thriving!
As Bajaj Nepal celebrates its 25th year of leadership, it's clear that the company has come a long way since its humble beginnings. With a solid commitment to quality, innovation, and customer satisfaction, Bajaj Nepal has established itself as a leader in the automotive industry in Nepal.
Rejoicing the success, cheers to the next 25 years of success and growth!