Best 6 Short Destinations to go on a motorbike ride near kathmandu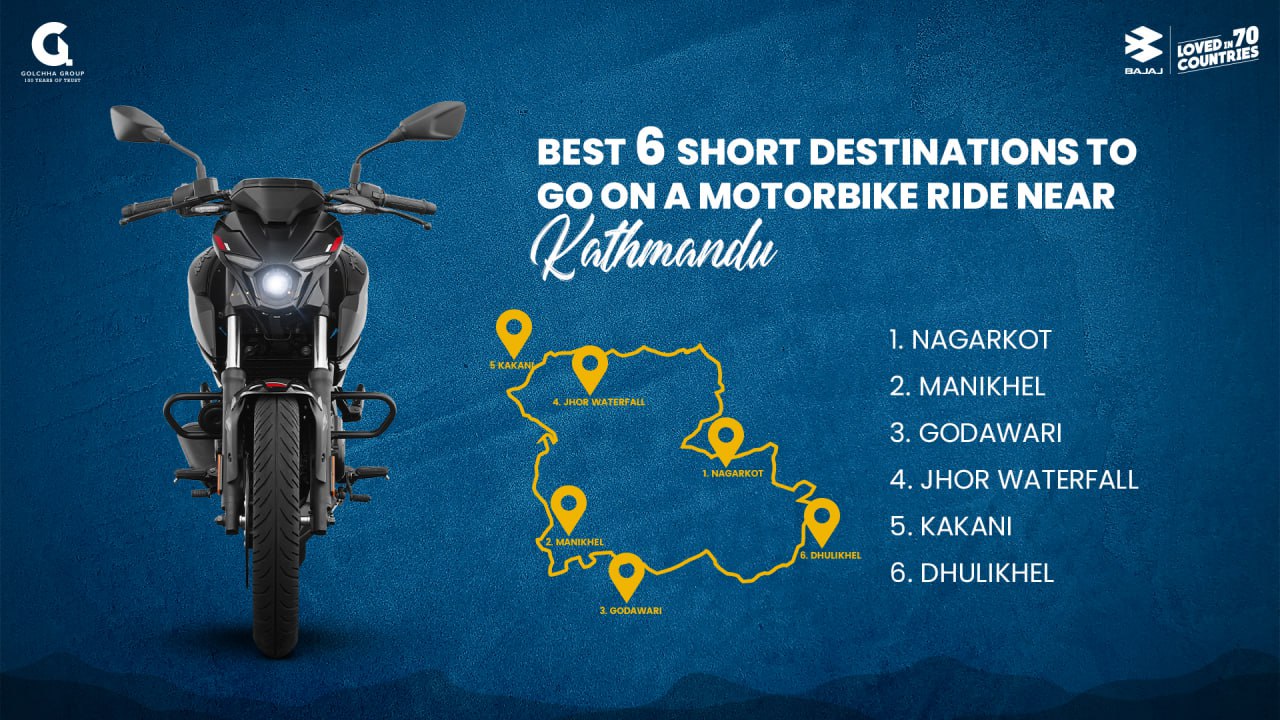 Kathmandu, other than being the capital city of Nepal, is a perfect destination for a wholesome adventure. And is there any way to explore the adventure along with the beauty of Kathmandu than on a motorbike? Because the city holds so many splendid places, it is a final landing place for a motorbike ride. In this blog, we are going to talk about the destinations you should visit on a motorbike ride near Kathmandu. Let us get right into it.
Table of Contents
Best 6 short destinations to go in a motorbike ride near Kathmandu
Nagarkot

Manikhel

Godawari

Jhor Waterfall

Kakani

Dhulikhel
Bajaj: Your Perfect Companion for Perfect Ride
Best 6 short destinations to go in a motorbike ride near Kathmandu
✔ Nagarkot
Nagarkot, located 32 km east of Kathmandu and is home to scenic beauty and panoramic views of the Himalayas. A 2-3 hours bike ride from Koteshwor - Jadibuti - Lokanthali - Thimi - Shallaghari - Kamalbinayak - Nagarkot. With its beautiful sunrises, sunsets, and clear views of the Himalayan mountain range, including Mount Everest, Nagarkot has undoubtedly become a popular tourist destination. With winding roads and hills, the bike ride offers challenging and picturesque views. Additionally, it is a home for adventure sports like hiking, paragliding, and horse riding and provides a peaceful atmosphere for a relaxing and rejuvenating bike ride.
✔ Manikhel
Not so popular yet, Manikhel is a place full of secrets which is located about 40 km from Kathmandu. With the magnificent hills that surround the entire village what sets Manikhel beautifully apart from all the other villages is the splendid Simba Falls; the stunning combination of 5 small waterfalls which has its unmissable presence amidst the green forest. It takes you around 2.5 hours to reach the Simba falls if you follow the route: Satdobato – Chapagaun – Lele – Bhardeu – Chaughare – Gotikhel - Manikhel - Simba Falls. It requires a little difficult yet worthwhile hike to reach the captivating waterfall. When you embark on a ride to Manikhel, you are going to get into rough and muddy terrain, but all of it is worthwhile short destinations to go on a motorbike ride near Kathmandu as it offers you just the adventure your bike needs!
✔ Godawari
A paradise for those who love nature, Godawari is a small town situated at the lap of Phulchowki and surrounded by greenery. A bike ride following the route of New Baneshwor- Koteshwor - Satdobato - Godawari, is at a total distance of around 15 km from Kathmandu which usually takes around 1 hour by bike, depending on traffic and road conditions. A must-visit destination, especially in spring and summer, when the plants and flowers blossom into the entire forest, Godawari welcomes you with the chilly wind as you bike through its roads. Godawari is a popular hiking destination in Nepal known for its rich wildlife, splendid environment, botanical garden, Godawari temple (Kunda and Navadhara), and the highest hill in Kathmandu Valley, Phulchowki. On the way during your ride, one can explore the local culture and, more than that, just the beauty of Godawari!
✔ Jhor Waterfall
Located in Tokha Mahankal, a short motorbike ride from Samakhusi Chowk can get you to Jhor waterfall within 30 minutes. Starting your ride from Samakhusi – Grande Hospital – Tokha and Jhor, the road up to Jhor is all black topped recently and in case of any confusion, you can ask locals about the direction once you reach the Tokha bus stop. Because of the entire refreshing aura of the place, it has become a popular spot for picnics too. However, the Shiva Temple that sits just by the side of the waterfall has a lot of religious significance to Hindus and what more description does a waterfall need? An astonishing natural spring water that flows throughout the year! Beginning the groovy ride and ending up to such a refreshing place can allow you to experience adventure and calmness at the same time.
✔ Kakani
Located 24 km from Kathmandu, Kakani is the ultimate spot for a bike ride. On a bike ride of about 1.5 hours from Balaju - Mudkhu - Kakani, the terrain of Kakani offers any biker with a varied yet adventurous bike ride, making it ideal for both beginner and experienced bikers. The serenity of this town can be the perfect fit for you to escape the hustle and bustle of the busy cities. As a stunning destination, Kakani provides a perfect opportunity to witness the majestic lush green forests and breathtaking snow-capped peaks. Along with the truly unmatched beauty, challenging terrain and cultural exploration, Kakani is a must-visit for anyone looking for a unique and memorable bike ride.
✔ Dhulikhel
A small town located 30 km to the east of Kathmandu valley, Dhulikhel is a place that offers so much more. Starting your bike ride following the route from Koteshwor - Jadibuti - Sanga - Banepa - Dhulikhel, you can reach Dhuikhel in around 1.5 hours relishing the perfect glance of terraced fields and lush green forests while relishing the rich traditional villages and culture. The bike ride following this route gives you an excellent cultural and historical highlight of Kathmandu Valley. Apart from the culturally rich aspect of Dhulikhel, one must take advantage of the beauty of Dhulikhel that lies in the charming views of the mountains. You can also pay your visit to the nearest destinations like Namobuddha and Panauti. To savor the local village life and to get a taste of their culture, you ought to witness it with a challenging uphill ride.
Bajaj: Your Perfect Companion for Perfect Ride
And while embarking on a ride of adventure, you ought to select a companion that can give you pleasant company and not a hard time. And who better than Bajaj can be your companion?
All the motorbikes of Bajaj, be it Pulsar or Dominar, all the series of bikes of Bajaj offers you with your desired comfort, design and durability. What you can expect more is the fuel efficiency, affordability and undoubted quality.
So what is the delay? The beautiful destinations await you to explore them. Whatever be your search, adventure or an escape, now is the time. Grab your helmet, sit on your bajaj ride and hit the road!
FAQs
What are some popular short destinations for a motorbike ride near Kathmandu?
Some popular short destinations for motorbike rides near Kathmandu include Nagarkot, Manikhel, Godawari, Jhor waterfall, Lakuri Bhanjyang, Shivapuri and Kakani.



What are the key things to remember when riding near Kathmandu on a motorbike ride?
It is essential to wear proper safety gear, including a helmet, gloves, and protective clothing. Additionally, riders should ensure their Bajaj bike is in good condition and have enough fuel, water, and snacks for the journey.
Best 6 short destinations to go on a motorbike ride near Kathmandu?
The best time of year to go on a motorbike ride near Kathmandu is during the dry season, which typically runs from October to May. The weather is generally pleasant during this time, and the roads are in better condition.